The old brick high school in Lecompton hasn't educated students since it closed in 1970. But it's now being revived for another generation of children—and their parents—as the town's community hub for after-school classes and other activities.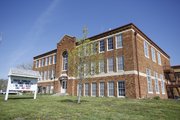 Built in 1927, Lecompton Rural High School is being turned into a community center that will house a library, theater, lounge and space for residents to meet and rent.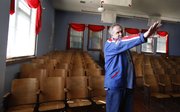 "We're all really excited about having some public space, because in Lecompton we really don't have public space," said Cyndi Treaster, president of Lecompton Community Pride, a group formed last July to enhance the town's quality of life. It is raising money to refurbish the three-story former high school building near the center of town.
Renovation of the old school building's first floor, which is where the library is located, was completed in early April, but the group still has plans to renovate the second and third floors.
Lecompton Community Pride began as an effort of a small group of residents who wanted to create a more cohesive community, and it has grown to about 30 members who regularly contribute and volunteer.
"It's brought the community together in a way that we really haven't seen in a very long time," Treaster said.
She thinks part of what people appreciate most about the building is the accessibility it provides to residents who previously had to drive to Lawrence or Topeka for activities. The building allows adults to take exercise classes such as zumba or for children to participate in dance classes without having to leave Lecompton.
"A lot of those kids are taking dance for the first time because their parents couldn't or didn't feel like traveling after work to take them to another town," she said.
Next on the project's renovation list: the building's auditorium.
"The next project we're taking on is the theater, because we see that as a major use for the building as far as larger activities," Greg Howard, LCP theater fundraising chairman, said.
Lecompton Community Pride wants to see the theater used for productions and movie viewings, as well as for events such as weddings and receptions. Howard said the theater currently isn't very attractive, but the group wants to make it "look like something the community could be proud of," he said.
To do that, the theater fundraising committee is hoping to raise about $20,000 to replace windows, redo the hardwood floors, paint the walls and buy a new stage curtain.
As part of its fundraising kick-off, Lecompton Community Pride is hosting a spaghetti luncheon Sunday at 1 p.m. at the building.
But the theater isn't the only project in need of money. Lecompton Community Pride is self-supporting and pays for the utilities and building repairs through a grant from Douglas County and from fees for the classes and activities it offers. It relies heavily on donations of money and resources from the community.
"I think it's important to see a building that is so important to the history of the town be restored and to be used by the town, as well as the people of surrounding area towns," Howard said.
For more information about the high school building restoration, donations and Lecompton Community Pride, visit www.lecomptoncommunitypride.org.
Copyright 2018 The Lawrence Journal-World. All rights reserved. This material may not be published, broadcast, rewritten or redistributed. We strive to uphold our values for every story published.