Look at Lawrence's colorful past through Charlie Thomas' lens, and you'll see a story filled with curiosities, wonders and intrigue. A volunteer docent for the Watkins Community Museum of History, Thomas is Lawrence's Indiana Jones, prowling through this imposing castle-like fortress that looms over the corner of 11th and Massachusetts streets, spelunking for treasures.
All he needs to launch an adventure is an accomplice, and the children who visit the museum are his favorite partners. As soon as they walk in, he asks kids to help him explain the mystery of the button. One day Thomas noticed a little spring-loaded knob on the front of the desk in the entry of the museum. He couldn't figure out what it did, why it was there. Still can't. So he asks children who visit the museum to help him solve the puzzle.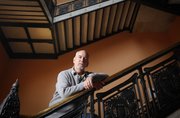 "They love to come up with stories of what the button is," Thomas laughs. "Maybe a burglar alarm? They have lots of stories. Then, I have kids that will bring their friends back to see that button."
Another mystery is the tiny secret door in the ceiling of what may have been old J.B. Watkins' apartment in the sub-attic of the museum. Where does it lead? Why is it there? Thomas had to know. And so did the museum visitors he took into these behind-the-scenes rooms that few get to see. Thomas climbed up on the gargantuan bathtub below the secret door and tried to pry open the portal so he could peer inside.
"I could never get it open," he says, and the mystery continued. "I do know now where that little door goes." Curious? Visit the Watkins Community Museum of History to find out for yourself.
With Thomas' vivacious, never-met-a-stranger personality and his unique ability to blow the cobwebs off history and make it come alive, it's no wonder John Jewell, business manager for the museum, selected Thomas as the museum's volunteer of the year for direct service as part of the United Way Roger Hill Volunteer Center's Celebration of Volunteers. Thomas was honored on Tuesday, along with dozens of other community volunteers who give their time and talent to area nonprofits.
"He's very exuberant; he enjoys what he does and enjoys helping people," Jewell says of Thomas. "He's a lot of fun to have around."
Born and raised in Clinton, Kan., Thomas spent his career as a high school guidance counselor in Dallas. When it was time to retire, he was excited to come home to the land where his family has lived for generations, a piece of Kansas soil that has its own fascinating history. Settlers gathered on a corner of his property, where a flowerbed now stands, to vote on whether Kansas would be a free or slave state, Thomas says.
He tells the story: "On our land on March 30, 1855, there was an election in Kansas to see whether we would go slave or free. In this territory, 20 people were certified to vote. Two hundred people came from Missouri and took over the polling place and voted pro-slavery, by force."
Thomas' ancestors not only passed on to him their pride in Kansas history; they also instilled in him a desire to give back to the community through volunteering. That's why he is quick to give up his Thursday mornings to greet museum visitors.
"I'm really enchanted with people and what we can do when they come in," he says. "People have to find their own way with history, their own way with what the museum means to them. The people who make the search, if they find what strikes their fancy, they will be here for a long time."
The museum has a host of volunteer opportunities available, including working with collections and artifacts, constructing displays, providing general maintenance and serving as docents. For information, contact Jewell at (785) 841-4109 or johnj@watkinsmuseum.org. For additional volunteer opportunities, see www.volunteerdouglascounty.org.
Copyright 2018 The Lawrence Journal-World. All rights reserved. This material may not be published, broadcast, rewritten or redistributed. We strive to uphold our values for every story published.