Free State High's girls soccer players left their home field Wednesday night unhappy with themselves. As far as the Firebirds were concerned, they didn't play anywhere close to their potential in a 3-0 loss to Olathe South, which snapped a four-game FSHS winning streak.
Photo Gallery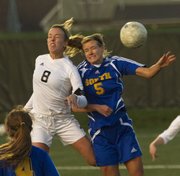 Free State girls soccer vs Olathe South
"We were struggling all game," senior Madeline Caywood said. "We came out a little slower than Olathe South and that showed on our goal. We couldn't get it cleared out."
Still, a first-half score from Falcons senior Abby Rhodes remained the only goal of the game until the 66th minute. The Firebirds (6-4) had a shot to tie it up on a free kick by Abbey Casady, but Jessica Ferguson's header in front of the net was stymied. Less than a minute later, to the dismay of FSHS coach Kelly Barah, O-South sophomore forward Brooke Prondzinski scored on the other end.
"That second goal was really deflating," Barah said, "but I think we've done a phenomenal job all year on our set pieces. We haven't scored a goal on any one yet, but we've been really aggressive on our set pieces."
FSHS junior Maddie Dieker put another shot on the O-South goal in the 70th minute, but it too was saved, and Prondzinski eventually added another score for the Falcons (6-4) in the 79th minute.
Barah acknowledged a poor level of play from Free State at times and put that "partly on the coaching staff." He said the Firebirds' lack of energy early definitely impacted the outcome.
"When you're used to being a team that goes and gets it and does whatever you want to do with it," Barah said, "it's hard to find your players then being a step behind."
Caywood said FSHS had a chance to adjust at halftime and get back on track in a 1-0 game, but the players didn't execute like usual and they let that impact their mental well-being.
"It was definitely one of our worst games of the season," Caywood said, "and we have to come back tomorrow and get a win."
The Firebirds play tonight at Olathe North.
Copyright 2018 The Lawrence Journal-World. All rights reserved. This material may not be published, broadcast, rewritten or redistributed. We strive to uphold our values for every story published.