A few days ago, Alexa Harmon-Thomas' mother, Kelly, wrote down all the high school meet records for Alexa's events at the Kansas Relays. She then told her daughter to set her goals high and go after those marks.
Alexa must have been listening.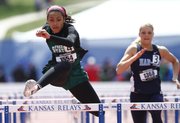 The Free State junior added to her accomplished track-and-field career Saturday, tying a Kansas Relays high school meet record with a long jump of 19 feet, 4 1/4 inches.
It was part of a historic day for Harmon-Thomas, who was named the Kansas Relays' Outstanding Female Athlete of the Meet. It was the first time ever that a Lawrence high-schooler has taken the award and only the 11th time that a high-schooler has earned the female honor since its inception in 1980.
"To win something like that is truly notable, because the people that come out of here that win those things go on to do very well in college, and then with things falling their way, go on and even do something beyond that," Free State coach Steve Heffernan said. "To add your name to that list of Olympians, some of them Olympic gold medalists, is quite an honor for her."
With the exception of three years — 1989, 2004 and 2005 — the female athlete of the meet honor is given to only one participant, meaning Harmon-Thomas also beat out the collegiate and unattached competitors for the award.
Previous winners include Kansas University sprinter and 4x400 gold-medalist Diamond Dixon in 2011 and Allyson Felix — the 2012 Olympics gold-medal winner in the 200 meters — in 2006.
"It just takes a special athlete," Heffernan said. " ... You've got to have a lot of talent to win something like that here."
Harmon-Thomas added a 100-meter hurdles title Saturday to go with her long-jump championship, giving her three first-place finishes in the two days.
On Friday, she won the high jump after sitting out the 300-meter hurdles because of the stomach flu.
"I feel really good about this weekend," Harmon-Thomas said. "I was glad that I was able to at least do the events I was able to do, because (Friday) in the morning and the afternoon, I didn't know if I was going to be able to do anything."
Harmon-Thomas tied the meet record with her third long-jump attempt Saturday, putting her name in the record books alongside John Marshall (Okla.) High's Lea Kirkland, who also jumped 19 feet, 4 1/4 inches in 1988.
"I was really excited when I heard it (tied the record)," Harmon-Thomas said. "It was really unexpected."
She didn't have much time to celebrate. Harmon-Thomas immediately switched her shoes to go run in the finals of the 100-meter hurdles.
Though she didn't get a good start out of the blocks, Harmon-Thomas recovered quickly, coasting to the win with a time of 14.30 seconds.
"I was definitely on a high," Harmon-Thomas said. "I had to switch mind-sets, though, really quickly and kind of forget about my long jump and focus."
Free State's other top-five finish came in the 4x400 Sunflower Showdown, as the team of Mika Crews, Bailey Sullivan, Kiara Clark and Laura Kennard finished second with a time of 4:06.23. That was nearly a six-second improvement from Friday's time in qualifying (4:12.17).
Kennard was especially strong running the anchor leg, as she lifted Free State from third to first before surrendering the lead to Baldwin in the final 50 meters.
Her 59-second split was the second-fastest in school history.
"She's coming on as a sprinter," Heffernan said, "and that's a really neat thing to see."
Lawrence High also had its share of impressive performances, led by Matia Finley, who placed fifth in the discus with a mark of 136 feet, 3 1/2 inches.
"She has worked and had as good of practices the last two or three weeks as any kid I've ever coached," LHS coach Jack Hood said. "I kept telling her, 'You're right there. You're ready. It's going to happen.' She did. I still think there's more to get. We'll see later in the season where we end up."
Finley set a new personal record with her final throw, as it was eight feet farther than her previous-best heading into Saturday's meet.
"I was just talking to my coach, and he just told me to use more hip," Finley said. "I finally just slowed down and used more hips, and it went how I wanted it to."
Matia's sister, Rebecca, made the finals and finished ninth with a throw of 123 feet.
The Lions' other highlight came in the 4x880, as the team of Leah Gabler, Riley Shook, Kyleigh Severa and Grace Morgan took 15th, setting a new personal record with a time of 10:08.90. That result was 11 seconds better than the group's previous-best in the 4x800, meaning the Lions covered 320 extra meters while still dropping 11 seconds.
"I think what we're doing in practice has showed," Gabler said. "On our sprint days, we go really hard, and we motivate each other. Our times at practice are better, so our times here are better, too."
Hood said three of the four runners set personal records with their splits in the event.
"We're really excited for the rest of the season," Hood said. "If we can continue to improve and shape that relay up, we'll be in good shape for the rest of the year."
Ottawa's Kord Ferguson added gold in the boys discus, winning with a throw of 182 feet, 1 inch.
Baldwin's 4x400 girls relay team of Elena Watson, Morgan Lober, Kaitlyn Barnes, Glenn Kelley McCabe also won the Sunflower Showdown with a time of 4:06.07.
Copyright 2018 The Lawrence Journal-World. All rights reserved. This material may not be published, broadcast, rewritten or redistributed. We strive to uphold our values for every story published.