When Emilie Padgett was in eighth grade, she had planned to sing in choir — but decided instead to try working on the yearbook, since no one else had signed up for it.
"I just fell in love with it and have done yearbook ever since then," she said. "And then we added newspaper at the school, and I'm editor-in-chief of that."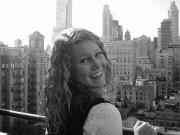 She had a similar experience more recently when she toured the campus of Duke University in North Carolina, where she plans to go next fall.
"Quite honestly, when I walked onto the campus, it was one of those 'ta-da' moments they talk about. I felt like this was where I wanted to go, and that's what I wanted to be and it'll help me become what I want to be."
Just exactly what she wants to be hasn't become clear yet. Although she says she would like to become a journalist or an editor in a publishing house, she also has keen interests in chemistry and business.
"So I suppose that as of right now, I am not too sure about my path after college," she said. "Baby steps right now, baby steps."
Judging by her record at Bishop Seabury Academy in Lawrence, there seems little doubt that she can succeed at anything she attempts. And for that, she was named the top scholar on the Journal-World's 2013 Academic All-Star team.
Padgett was chosen from among 28 area students who were nominated by their principals and counselors. Judges in the contest narrowed the field to a short list of 10 All-Star team members, and the final award was announced at a luncheon held last week in their honor.
Robert Harrington, one of the judges in the contest, said Padgett stood out for her "very high scholastic achievement, college boards and lots of extracurricular activites."
"Clearly a leader with potential," he said of Padgett. "Has high likelihood of succes in college and graduate school. A role model for others."
Among her many academic honors, Padgett has been recognized by the Kansas Honors Program, the Duke Talent Identification Program and the Seabury Scholar awards. She received a Brown University Book Award in 2012 and earned a silver ranking on the National Spanish Exam.
In school, she lettered in tennis, basketball and soccer. She helped found the Bishop Seabury swim team and placed fifth in a state competition.
In addition to working on the yearbook and newspaper, she was active in student government and the PIECE Project, a leadership training program.
Outside of school, she has been an active volunteer at the Lawrence Community Shelter, the Special Olympics and the Lawrence Humane Society.
Padgett credits her father Brent Padgett for being an inspiration.
"He was the person who taught me how to ride a bike without training wheels, then promptly took that bike away when I ran a stop sign without looking," She said. "He taught me that nothing is possible without blood, sweat and tears, and that I shouldn't be afraid to give them."
Copyright 2018 The Lawrence Journal-World. All rights reserved. This material may not be published, broadcast, rewritten or redistributed. We strive to uphold our values for every story published.