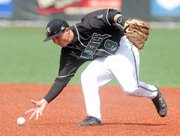 Thursday night at the River City Baseball Festival, senior Jacob Caldwell's pitching helped Free State High stay undefeated.
Friday afternoon at FSHS, Caldwell did the damage with his bat.
The senior first baseman knocked his third hit of the game against Rogers, Ark., when the Firebirds needed it the most — in the bottom of the eighth. Caldwell's two-out single up the middle scored Joe Dineen from second base, and Free State won its fourth-extra inning game of the season, 6-5.
"Jacob's been clutch for us all year," FSHS coach Mike Hill said after Caldwell went 3-for-5 and drove in four runs. "He's really, from an offensive perspective, come a long way and has turned himself, I think, into one of the better hitters around — particularly in the clutch."
After Dineen came up with a one-out single to left field for his first hit of the game in the bottom of the eighth, the Firebirds (11-0) were down to two outs when Caldwell came up to the plate. Then Dineen stole second base to give Caldwell a golden opportunity.
"All I had to do was get my job done and put it through the middle," Caldwell said. "He's quick, and he can make it home."
Because Caldwell already had tripled and doubled, Dineen felt his task was even simpler once he stole second.
"I knew with Jacob at the plate he was gonna put it in play somewhere," Dineen said. "He's been on fire all year. It was just my job to run fast. Run fast, turn left."
Rogers (12-9) had no chance of throwing out the speedy FSHS left fielder on Caldwell's walk-off hit.
Free State was an out away from a win in the top of the seventh when relief pitcher Dane McCullough's wild pitch allowed Timmy Seldomridge, who reached on an error, to score from third and tie the game at 5.
Caldwell said the Firebirds don't mind competing in tight spots, late in games.
"(The pressure) is higher, but at the same time we're used to it at this point of the season," he said. "With Dane pitching, we like having him out there, and we trust him a lot. And our bats have been pretty hot lately."
FSHS trailed, 4-0, by the middle of the first. Though starting pitcher Sam Hearnen surrendered five hits in the first frame, he only allowed two more hits and three walks in five scoreless innings after that.
Hill admired the Firebirds' response, both from Hearnen and the offense. Dineen and Cooper Karlin each drew a bases-loaded walk for Free State's first two runs in the second, then Caldwell delivered a three-run triple to the right-field gap for a 5-4 FSHS lead.
"They put a four-spot up on us in the first and punched us in the nose," Hill said, "and instead of going away we come back and put a five-spot up, and now we've got a ball game."
The Firebirds close their festival weekend at 11:50 a.m. today against Blue Valley Northwest at Hoglund Ballpark.
Rogers, Ark. 400 000 10 — 5 8 2
Free State 050 000 01 — 6 8 3
W — Dane McCullough (4-0). L — Chris Greear.
2B — Brett Gentz, Konstantin Storkov, Rogers; Jacob Caldwell, Lee McMahon, Free State. 3B — Caldwell, Free State.
Free State highlights — Caldwell, 3-for-5, 4 RBIs; McMahon, 2-for-4; Joe Dineen, 1-for-4, RBI, SB; Zach Bickling, 1-for-3, R; Joel Spain, 1-for-3, R.
Copyright 2018 The Lawrence Journal-World. All rights reserved. This material may not be published, broadcast, rewritten or redistributed. We strive to uphold our values for every story published.