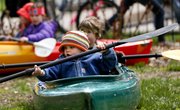 Earth Day isn't until Monday, but the city observed the eco-friendly holiday early with an Earth Day Parade and Celebration on Saturday.
The celebrations, hosted by the Waste Reduction and Recycling department, were scheduled early because Earth Day fell on a weekday, and the city wanted to be sure city residents could attend.
"The goal and purpose is to celebrate Earth Day and let citizens know about services and products," said Kathy Richardson, the city's Waste Reduction and Recycling Operations supervisor.
KU Environs helped to host and organize the parade, which had Earth-themed floats as well as participants with signs promoting their environmental cause or organization. Some parade participants dressed in costume.
Stacey White was a member of the city's Recycling and Resource Conservation Advisory Board in 2001 when the event was started. Thirteen years later, White still participates in the Earth Day parade. This year she and her family dressed in giraffe headgear.
"It's our family tradition, and every year we have different animal themes," she said.
The parade began in Watson Park and ended at South Park, where the fair with exhibitors, food and music was located. More than 50 exhibitors promoting waste reduction, recycling, energy conservation, wildlife and habitat preservation and other environmental issues had tables at the event to educate attendees.
"We try to encourage people to understand that every little thing makes an impact," said Cassandra Ford, the city's waste reduction and recycling specialist. "For the people that are here, we're hoping they'll find at least one thing that speaks to them, and that's one step closer to the solution."
One of the exhibitors with activities and giveaways was Dillons. The newest Dillons location in Lawrence, 1740 Massachusetts St., is the first documented zero-waste store in Dillons and Kroger history. Members of the Dillons staff handed out cookies, painted children's faces and had activities like sorting recyclables and planting seeds at their table.
Seth Naumann, Dillons assistant manager at the Massachusetts Street location, said the store wanted to participate in the celebration because the environment is so important to them.
"It's our home, it's everyone's home, and we have to take care of it," Ford said.
Copyright 2018 The Lawrence Journal-World. All rights reserved. This material may not be published, broadcast, rewritten or redistributed. We strive to uphold our values for every story published.