The explosion at a Texas fertilizer plant that killed as many as 15 people and injured more than 160 Wednesday night caused many Americans to wonder "what if that occurred in my area?"
In Douglas County, emergency responders have plans in place in the event the worst does happen.
A local emergency operations plan includes all cities and townships within Douglas County and deals with any number of emergencies, including explosions and floods. The county also has its own hazardous materials team.
"Our community works well together to make sure we can plan for these situations and respond in the best way possible," said Jillian Rodrigue, assistant director of emergency management for Douglas County.
A local emergency management committee meets regularly to discuss potential disasters that could happen in the community. Local businesses that use hazardous materials also meet with the committee to go over their own emergency-preparedness plans. They include Hallmark, 101 McDonald Drive; ICL Performance Products, 440 N. Ninth St.; Westar Energy, 1250 North 1800 Road; and Prosoco, 3741 Greenway Circle. Emergency responders have even done exercises at some of the plants.
ICL, for instance, manufactures phosphorus-related products at its plant in North Lawrence. It has specific response plans for dealing with each of the hazardous chemicals it uses, describing what to do in case of exposure, accidental release and fires.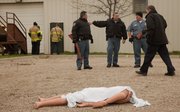 Local emergency responders just had a hazmat training exercise on Tuesday to practice responding to such a disaster. Officials do the drills, then evaluate what works and what doesn't, adjusting their response plans accordingly.
"We want to walk through those processes a number of times to make sure we're able to take the best steps possible to serve our local community and keep death tolls and injuries down in case of an emergency," Rodrigue said.
She noted that Douglas County has been fortunate to avoid incidents similar to the fertilizer plant explosion in Texas. One exception was in June 2010, when city officials were forced to shut down the MagnaGro fertilizer plant following the death of two workers who had been overcome by fumes. The company's owner, Raymond Sawyer, had earlier been convicted in federal court of discharging fertilizer waste into the Lawrence sewer system.
Copyright 2018 The Lawrence Journal-World. All rights reserved. This material may not be published, broadcast, rewritten or redistributed. We strive to uphold our values for every story published.