Photo Gallery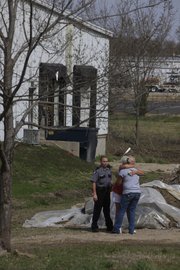 Fatal accident at MagnaGro International
22nd and Delaware
Two people are dead and two were injured after an industrial accident at MagnaGro International, 600 E. 22nd St., according to Mark Bradford, Lawrence-Douglas County Fire Medical chief.
Emergency crews responded at 2:38 p.m. Thursday to the site of the incident, near 22nd and Delaware streets. Once at the scene, crews were told two people had fallen into a tank containing an unknown substance.
Bradford said the substance wouldn't normally be toxic, but because of the close quarters inside the tank, it was harmful. One employee was pronounced dead at the scene and a second one died at Lawrence Memorial Hospital. Another worker was treated at LMH and released on Thursday.
Jeff Novorr, vice president at Lawrence Memorial Hospital, said chemical residue left by an ambulance that had been at MagnaGro contained about 80 percent cane molasses. Novorr said cane molasses — when in a poorly ventilated area — converts to carbon monoxide.
"Obviously, in a non-ventilated area, it is fatal," Novorr said.
After responding to the emergency call Thursday afternoon, crews from Lawrence Douglas County Fire and Medical entered the building in HazMat suits and were washed off by other firefighters when they exited the building. One firefighter was taken to LMH with respiratory injuries that Bradford said were not life-threatening.
An LMH nursing supervisor Thursday night said both the injured worker and firefighter were both treated and released from the hospital.
Lawrence police surrounded virtually the entire building with crime scene tape.
LMH closed its ambulance bay about 3:30 p.m. Thursday, and Novorr said it reopened about 7:30 p.m. The emergency room remained open, LMH representatives said.
The bay is specially designed to contain chemical contamination, and this is the first time the special characteristics have been employed. Novorr said he and other LMH officials are confident the contamination had been contained to the bay.
Names of the three people are being withheld, pending notification of family members.
MagnaGro General Manager Raymond Sawyer, when reached about two hours after the incident, said he was in South Dakota and had no knowledge anything had occurred at the business.
MagnaGro International has a history of environmental incidents at its facility at 600 E. 22nd St.
In February 2009, Sawyer pleaded guilty in federal court to illegally discharging waste from a fertilizer operation into the city's sewer system. According to court records, Sawyer was sentenced to five years of probation for the misdemeanor offense. He and the company also were required to pay a $240,000 fine related to charges, which stemmed from a 2001 incident.
The company formulates chemical fertilizers for resale across the nation.
The case came about after investigators with the Environmental Protection Agency in September 2007 alleged Sawyer and the company were discharging waste from the fertilizer operation into the sewer system, using a hose inserted into a toilet. Investigators determined the company had been doing that for 10 years.
In January 2008, Lawrence fire and medical crews responded to an accidental spill at the site. According to the fire and medical department, employees of the company apparently were transferring a chemical, a plant growth activator called Phypogroxtra, from one tank to another when a leaky valve led to the spill. The chemical was washed into the street, where a passerby spotted it and reported it to authorities.
Then again in October 2009, crews responded to the site to contain another spill. At the time, Lawrence fire and medical officials said 200 to 250 gallons of fertilizer-like material leaked from a tanker truck into an area ditch.
For more on this story, check back to LJWorld.com.
Copyright 2018 The Lawrence Journal-World. All rights reserved. This material may not be published, broadcast, rewritten or redistributed. We strive to uphold our values for every story published.