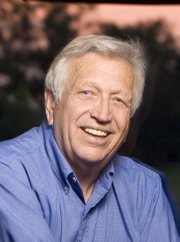 Contact KU and higher ed reporter Sara Shepherd
Have a tip or story idea?
---
More stories
Wes Jackson, a Kansas University alumnus and a leader in the area of sustainable agriculture, will be the lead speaker at KU's commencement ceremony in May, the university announced Monday.
Jackson, who earned a master's degree from KU, founded The Land Institute. Based in Salina, the institute researches environmentally friendly farming techniques in pursuit of an agricultural system that more closely emulates nature.
Jackson is one of three people who will receive honorary KU degrees for 2013, the second year that KU has granted such degrees.
He grew up on a farm outside of Topeka and earned a bachelor's degree from Kansas Wesleyan University and a doctorate from North Carolina State University. He founded an environmental studies program at California State University, Sacramento, before founding The Land Institute in 1976.
Jackson has received the Pew Conservation Scholars award and a MacArthur Fellowship (or "genius grant"), among other honors.
He will be the second honorary degree recipient to deliver the chief address at KU's commencement, which, for many years didn't feature a guest speaker, leaving the address to the KU chancellor. Last year's featured speaker was Alan Mulally, CEO and president of Ford.
As she did last year, Chancellor Bernadette Gray-Little also will address the graduates at the ceremony, providing a welcome and farewell and conferring degrees.
The other honorary degree recipients for 2013, announced in fall 2012, are world-renowned dancer and choreographer Karole Armitage and acclaimed artist Wendell Castle.
The 141st KU commencement is set for 10:30 a.m. May 19 in Memorial Stadium. More details on the event are available at commencement.ku.edu.
Copyright 2018 The Lawrence Journal-World. All rights reserved. This material may not be published, broadcast, rewritten or redistributed. We strive to uphold our values for every story published.