Photo Gallery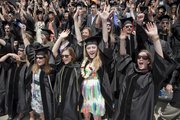 2012 KU Commencement
The 4,800 members of Kansas University's Class of 2012 celebrated their newly earned degrees on Sunday with hugs, a cartwheel or two, tears, Mylar balloons and a whole bunch of smartphone pictures.
"I'm both sad and happy," said Paige Blevins, a graduate from Great Bend with a bachelor's degree in English. "Because I had a great time at KU, both socially and educationally."
She said she'll always remember running from Rieger Scholarship Hall to Mass. Street after KU beat North Carolina to advance to the Final Four. She'll have a chance to make new KU memories, though, as she'll be back for law school.
Sunday marked the 140th commencement ceremony at KU, but was the first time that the university awarded honorary doctorates. The four honorees were former FDIC Chairwoman Sheila Bair, composer Kirke Mechem, former U.S. Sen. Bob Dole and Ford CEO Alan Mulally. All but Dole received the honor in person.
Mulally delivered the commencement address, taking over a role traditionally held by KU's chancellor, though Bernadette Gray-Little did deliver a farewell speech to the graduates.
The Ford CEO highlighted his KU and Lawrence roots, recalling how he attended basketball star Wilt Chamberlain's first varsity game at KU and took some credit for Chamberlain's first record-breaking 52-point game against Northwestern after delivering a "pep talk" (The two exchanged brief "Hi"s before the game).
Mulally encouraged the graduates not to shy away from challenges and setbacks, calling them "gems."
"Of course, unless we do something with it, a gem is just a rough stone," he said. "It is up to us to shape and polish it."
He referenced a few of his own struggles and challenges, discussing his first management job at Boeing, where he oversaw one employee, who promptly quit. He said he later approached the employee and discovered he had been trying to make the person do things exactly the way he did.
"Over time, I learned that the most effective managers and leaders connect people to the compelling vision of the enterprise, in a way that benefits the individual and benefits the organization," Mulally said.
He encouraged the graduates to pursue the things that mattered to them "with great passion," while being open and flexible.
"The world you are entering is filled with challenges and opportunities," he said. "It is up to you to turn them into gems."
Before the ceremony, graduates lined Memorial Drive in near-perfect weather, with temperatures in the low 70s below a nearly cloudless sky. Some had jobs, and some didn't. Some had debt — "Oh, yeah. Lots of it," said Crystal Yakel, an education graduate from Leawood — and some didn't — "Thank you, Grandma," said Alyssa Heinrich, a human biology graduate from Naperville, Ill.
But on Sunday, the focus was on the students, their transition to the next stage of life and their achievements. While lining up to go through the Campanile and down the hill to Memorial Stadium, several thoughts occupied the new graduates' minds.
"I just hope I don't trip," said Kelsey Belt, a communication studies major from Overland Park.
It wasn't tripping that concerned Patrick Collins, from Prairie Village, and Jon Collins, from Highland, two (unrelated) mechanical engineering graduates who took a moment to reminisce about their KU careers.
Patrick was talking about "the camaraderie of suffering" that comes with going through engineering classes together, when the conversation shifted to ways their families could find them in the mass of black robes. Jon had brought some Star Wars stormtrooper masks that he and a group of friends were wearing to help their families out a little.
But, if all four were wearing them, how would their families know who was who?
"If they see us, we'll take them off," Jon said.
Gray-Little, in her farewell speech, encouraged the graduates to make the most of their education, to not just do well, but also to do good in the world.
"Go out there," she said. "Do great things. And Rock Chalk."
Copyright 2018 The Lawrence Journal-World. All rights reserved. This material may not be published, broadcast, rewritten or redistributed. We strive to uphold our values for every story published.