Some may turn up their nose at thrift or second-hand stores, but little do they know that these underrated shops can be gold mines for fashion enthusiasts. Years ago, I steered clear of thrift stores because of their garage sale, unorganized stereotype. I never thought I would find anything old that I would actually wear. I found that I was absolutely wrong when I first stepped into a local second-hand store.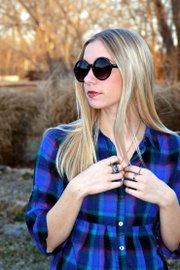 My amazement was overwhelming when I walked out with several hidden treasures all less than $20. To this day, I regularly wear a flannel tunic shirt I picked up for only $5, which I continue to explain to everyone who compliments me on it.
I'm not saying that you'll always be as lucky as I am when thrift shopping, but I do know that at some point you'll get the thrill of snagging a unique piece for a fraction of the cost, and that is a great feeling. Here are some tips and tricks to navigating your next shopping spree at a thrift store.
Patience
Everyone knows what patience means, but actually having patience is a completely different story, especially when you're thrift shopping.

A thrift store is no place for speed shoppers. Be prepared to spend some time shuffling through the gems because there are a lot of them, and most are hidden. Make sure you set aside time so you can really enjoy your experience and hopefully walk away with a one-of-a-kind piece at an unbelievable price.
Prepare to dig
I think thrift stores try to keep everything organized as much as possible, but that can be difficult since pieces are constantly leaving and being restocked, not to mention the customers rummaging through the clothes every day.
Nevertheless, you need to sift through everything in order to get the most out of the experience. Even when you're tired of perusing the store, keep going because you never know what you'll find.
Do research
If you're a first-timer, do some research about stores you're interested in visiting.
There are usually reviews online from previous customers, and that can give you an idea of whether it's worth checking out. I have even called some stores and asked if they have a specific brand that I'm looking for, especially for out-of-town stores.
You can also ask them if they have a significant amount of inventory of a specific item like denim or shoes.
Where to shop
Now that you know what you have to do, take note of the best thrift stores that I've been to in Lawrence and surrounding areas.
I love Arizona Trading Company, 736 Massachusetts St., and Wild Man Vintage, 939 Massachusetts St. Plato's Closet, 3514 Clinton Parkway, is one of my go-to thrift stores because I'm almost guaranteed to find something every time I shop there.
For affordable and unique jewelry, I would recommend River Market Antiques in downtown Kansas City's River Market area.

Copyright 2018 The Lawrence Journal-World. All rights reserved. This material may not be published, broadcast, rewritten or redistributed. We strive to uphold our values for every story published.