Corinne Brinkerhoff, a television screenwriter and Lawrence High School alumnus, will be the keynote speaker at this year's Community Education Breakfast.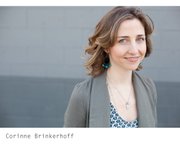 The event raises money for the Lawrence Schools Foundation which helps fund the district's early childhood education programs as well as other grants, awards and scholarships. In 2012, the foundation provided more than $305,000 in direct program support for Lawrence schools.
Brinkerhoff, who graduated from Lawrence High in 1998, is a writer and co-executive producer of the CBS series "Elementary," a contemporary update of Arthur Conan Doyle's Sherlock Holmes mysteries.
She also spent three years as a writer and producer on CBS's "The Good Wife," which received an Emmy nomination in 2010 for outstanding writing.
Brinkerhoff began her career on ABC's Emmy-winning show "Boston Legal" in 2006.
After graduating from Lawrence High, she earned a bachelor's degree from Truman State University and a master's degree from Boston University. She is the daughter of Cory and Cindy Brinkerhoff, both of whom also graduated from Lawrence High.
The Community Education Breakfast is scheduled for Sept. 6.
For more information, contact Susan Esau, executive director of the foundation, at 330-1941, or by email: sesau@usd497.org.
Education news
Have a story idea?
Contact Journal-World education reporter Elliot Hughes:
ehughes@ljworld.com
Copyright 2018 The Lawrence Journal-World. All rights reserved. This material may not be published, broadcast, rewritten or redistributed. We strive to uphold our values for every story published.