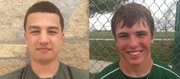 Free State High football juniors Fred Wyatt and Joe Dineen have some difficult decisions to make. Both key contributors to the Firebirds' 2012 season, which ended with a 10-2 record after a loss in the Class 6A state semifinals, Wyatt and Dineen already are sorting through offers to play Div. I college football.
Wyatt, a 6-foot-4, 260-pound defensive lineman, has received offers from Northwestern, Rice and Kansas, and this past weekend Oklahoma State threw its hat in the ring. Wyatt said he likes all the coaches he has met, and he doesn't consider one program ahead of the others at this point.
"It's kind of hard," he said, "to pick just one to be my top one."
At 6-2, 200 pounds, Dineen's offers have come from Rice and Kansas. He made an unofficial visit to Rice a few days back and enjoyed it.
"I like KU just as much," Dineen said. "It's tough."
The good news for both is they have plenty of time to make up their minds before national signing day next February, and they well could receive more offers before then. FSHS coach Bob Lisher expects both will have more potential suitors emerge, and he knows exactly what college coaches see in Dineen and Wyatt.
"Number one is their athletic ability for their size," Lisher said. "Their speed and strength fits their size (to play at the Div. I level)."
The Firebirds' top two prospects are soaking in the whole recruiting experience. Neither has made an official visit anywhere, but they went to Oklahoma State together and have bounced opinions off one another.
Dineen said each time a new program shows interest in him, he gets excited.
"A lot of schools want me to come to camp," he shared. "They say I'm on the verge of an offer, but they want to make sure."
Mostly, coaches want to see his speed (rivals.com lists his 40-yard dash time at 4.54 seconds) in person. In what will be a busy summer, Dineen has been invited to one-day camps at Oklahoma, Arkansas, Nebraska and Oklahoma State.
Both Wyatt and Dineen have ties to KU. Buddy Wyatt, Fred's father, is the Jayhawks' defensive-line coach. Dineen's grandfather, Ron Oelschlager, played running back and defensive back at Kansas, and his mother, Jodi, played volleyball at KU. Both said their affiliation with the hometown program shouldn't impact their decisions.
"I've been around him (his father) for 16 years now, and I've been to many practices. He gets after his guys," Wyatt said with a grin. "But it would be nice to stay around home, get some good, home-cooked meals every once in a while. But I also kind of want to be off on my own and see what life is like outside of home. Those are decisions that will come in the future."
Added Dineen: "I don't even know if I can go away, too. I don't know how far I can go. Might get a little homesick. But everybody gets homesick, so I'll get over it, obviously."
Before Free State's class of 2014 graduates, the Firebirds could have more players with D-I options
Athlete Khadre Lane, linebacker Keith Loneker and long snapper Reid Buckingham appear to be the most likely to garner interest from Div. I programs.
That would be some class, considering five FSHS players — Dijon Dillon, twins Ryan and Brian Murphy, Mikel Ruder and Christian Ballard — in the program's 16-year history have signed to play at the D-I level.
Copyright 2018 The Lawrence Journal-World. All rights reserved. This material may not be published, broadcast, rewritten or redistributed. We strive to uphold our values for every story published.