If you go
"12 Angry Men" runs April 12, 13, 14, 18, 19, 20, 21, 25, 26, 27 and 28. Curtain is 7:30 p.m. Thursday, Friday and Saturday nights and 2:30 p.m. Sundays. Tickets are available online at theatrelawrence.com or by calling the box office at 785-843-7469.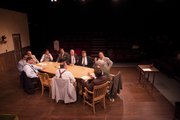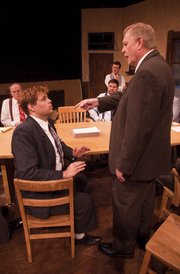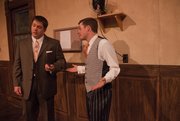 When you think about it, it makes perfect sense: A lawyer directing a play about a jury deliberation.
"This one seemed to be a good fit for me," Charles Whitman said of directing "12 Angry Men," which opens Friday night at Theatre Lawrence.
The classic play, based on a 1954 television drama, tells the story of a jury in a murder trial that appears to be open and shut at first glance. But a single man has doubts.
As the deliberations continue, he sows those doubts into the minds of the other jurors, creating huge conflict over the question of the defendant's guilt or innocence that reveals a lot more about the men who will decide his fate than the man on trial.
"It's been helpful when the actors have questions about legal procedures," Whitman says of his background as a lawyer, but he confesses it was only one of the things that drew him to this piece.
"I usually direct comedies," he said. "This was an opportunity to work with a drama and one that's a classic."
Walt Boyd, who plays the heroic Juror No. 8 — a role made famous by Henry Fonda in the 1957 film version — agreed that the script was a big draw.
"It's been a show I've always wanted to do," he said. "It's such a powerful piece."
Whitman had another motive for wanting to be involved: "12 Angry Men" is the final show in Theatre Lawrence's current building at 1501 New Hampshire St.
"I was in 'I Was Right Here a Moment Ago' in 1984," he said. "It was a chance to be in the first show ever in this building and to direct the final show in it."
Whitman admits to both nostalgia for the current facility and a desire to be in the new one, the construction of which in front of Free State High School is nearly complete.
"It'll be nice to get into the new building," Whitman said. "It'll be nice to be in a building that was built for the specific purpose of being a theater, which this one, of course, was not."
The current structure is a renovated church. Theatre Lawrence converted the sanctuary to its stage and the pastor's living quarters to dressing rooms.
"We won't have to do quick changes in the lobby at the new building," Whitman quipped.
But if it'll be nice to have a new, purpose-built facility, virtually everyone who's been involved at Theatre Lawrence has some fondness for the current location.
"The challenges of designing for this space really brought out some great work by the technical artists," Whitman said. "It'll be interesting to see what they do with the new space."
"I love the intimacy of this space," Boyd said. "You can do things with facial expressions and other things you just can't do in bigger spaces."
And so Theatre Lawrence brings down the curtain on its current facility with one of the true classics of the American theater. Maybe the building itself isn't quite as classic as the final play it hosts, but, like "12 Angry Men," it holds a special place in the hearts of many in Theatre Lawrence's community.
Boyd summed it up best: "I'm going to kind of miss this place."
Copyright 2018 The Lawrence Journal-World. All rights reserved. This material may not be published, broadcast, rewritten or redistributed. We strive to uphold our values for every story published.