The idea that this week's rains signal some relief from the drought might not be purely wishful thinking.
Even if the showers stop after Wednesday night, as the local forecast suggests, and Lawrence finishes the week with not much more than an inch of rain, the region is trending wetter, according to climatologists at the National Drought Mitigation Center in Lincoln, Neb.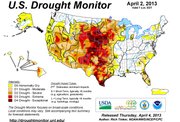 In the short term, Lawrence collected a little more than a half-inch of rain on Sunday, followed by negligible amounts on Monday and Tuesday, and about a half-inch Wednesday. There's a chance for a little more rain Wednesday night, but that is likely to be the last of it this week, said Matt Wolpers, a National Weather Service meteorologist in Topeka.
Meanwhile, temperatures are forecast to drop to lows of 29 and 30 degrees on Thursday and Friday night before warming up to the 60s and 70s on Saturday, Sunday and Monday. There is a 40 percent chance of thunderstorms on Sunday and Monday.
But even paltry rain this week may be a harbinger of wetter times to come, said Brian Fuchs, a Drought Mitigation Center climatologist. That should be good news for everyone, after almost the entire state was declared a federal disaster area in January because of the ongoing drought.
"It is easing," Fuchs said. "With drought, you typically are slow going in and slow getting out. It's going to take some time, but we are seeing some positives."
Weather patterns started swinging in our direction about two months ago, Fuchs said, with February's snows across the Midwest and the recent rains. Lawrence probably collected about 1 or 2 inches of water from all of those piles of snow, he said.
That still leaves Kansas about 16 inches below average rainfall for the last year, Fuchs said, but the longer-term models suggest more water coming in May and June.
Fuchs wasn't saying the drought would end any time soon. The best case scenario: Kansas could see moderate or severe drought conditions this summer instead of extreme drought. And even on that point, the climatologists in Nebraska are only cautiously optimistic.
"These forecasts are only accurate for about a few weeks out," Fuchs said. Last year's April was rainy, too, but the skies dried up in May and June and a long, hot, dry summer followed.
"If that happens again, we're going to be seeing really severe drought," he said.
Copyright 2018 The Lawrence Journal-World. All rights reserved. This material may not be published, broadcast, rewritten or redistributed. We strive to uphold our values for every story published.