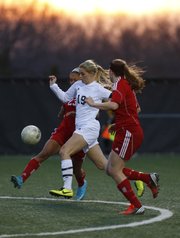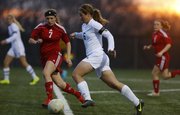 Free State High's girls soccer team already had lost twice this week. The Firebirds didn't want to make it three times in four nights Friday in their home opener.
After dropping a pair of Sunflower League games on the road Tuesday and Thursday, FSHS busted out of a short-lived slump with a painless, 4-0, non-league victory over Lansing.
Coach Kelly Barah said Free State (2-2) hadn't been playing up to its full offensive capabilities in its two setbacks. It wasn't that his Firebirds were playing bad soccer, they just hadn't been finishing — scoring just one goal in 160 minutes of play.
"We were just trying to get back to scoring goals," Barah said after FSHS took 31 shots, putting 19 on goal. "We thought we played the last couple of games really hard. We had one we thought we had in control, and we gave it away at the tail end of the game."
Given that Lansing managed only two shots the entire night, that wasn't an issue for Free State, which controlled the ball throughout.
Coming off a shutout loss Thursday, junior forward Jessica Ferguson ended the team's scoring drought early, in the 14th minute. She juked a Lions defender about 20 yards out before burying her shot.
"After losing two games in a row, it felt good to get a redeeming win here," Ferguson said, "especially at home in front of all of our fans. I'm hoping it sets the tempo for the rest of the year."
Senior midfielder and forward Abbey Casady, who scored a goal of her own in the second half, said Ferguson settled the team by putting FSHS ahead early.
"It's always the first goal that really helps," Casady said. "Hers was awesome, too."
The Firebirds pestered Lions goalkeeper Kelsie Pitsenbarger. Though the keeper turned them away 15 times, the Firebirds' relentlessness paid off. In the 30th minute, junior forward Maddie Dieker sent a corner kick out in front of the goal, and Chelsea Casady kicked it up to give FSHS a 2-0 lead. Chelsea scored again on a direct kick in the 67th minute, when she drilled a shot off the right side of the cross bar, and it bounced across the line.
Said Barah: "Over the last couple of years, this senior group, including her, they've just been tremendous. It's really hard to put it into words."
The Firebirds built upon their 2-0 halftime lead in the 46th minute. Junior midfielder Hadyn Hutchison passed the ball over the Lansing defense and out in front of Abbey, who controlled the ball and beat a defender for her score.
Abbey said the four-goal night helped the Firebirds feel better about themselves before they recover this weekend and start preparing for a Tuesday home date with Shawnee Mission East.
"It does feel good," Abbey said, "to actually have the ball go in the back of the net."
Copyright 2018 The Lawrence Journal-World. All rights reserved. This material may not be published, broadcast, rewritten or redistributed. We strive to uphold our values for every story published.