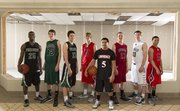 Player of the year: Semi Ojeleye, Ottawa
The 6-foot-8 senior Cyclones forward proved unstoppable throughout his prep career, finishing as the Sunflower State's all-time leading scorer with 2,763 points — surpassing the 2,554 scored by Brewster's Josh Reid, class of 1996. Ojeleye put up a stunning 38.1 points, along with 8.5 rebounds, to lead Ottawa to an undefeated season and a Class 4A state championship.
Coach of the year: Jon McKowen, Ottawa
After three straight appearances in the 4A state tournament championship game came up short of a victory, McKowen's Cyclones finally captured a title for Ottawa in their fourth try, with a 54-45 win over previously unbeaten Topeka Highland Park. OHS, led by All-Area players Ojeleye, Dallas Natt and Alex Hasty, finished with a perfect 25-0 record.
First team
Andrew Ballock, Eudora — The athletic, 6-foot-2 Cardinals junior carried EHS throughout the season. Ballock averaged 17 points, seven rebounds, three assists and two steals, earned first-team All-Frontier League honors and made regular-season all-tournament teams in both Paola and Tonganoxie.
Alex Hasty, Ottawa — One of nine seniors on the Cyclones' unbeaten state championship squad, Hasty complimented the players around him perfectly. The 6-foot-4 forward contributed 8.3 points and 6.9 rebounds to the untouchable OHS attack and scored 20-plus points twice in the postseason.
Khadre Lane, Free State — As his first year in a FSHS uniform progressed, the junior forward transfer from Bishop Seabury Academy grew increasingly comfortable, finishing with averages of 13.3 points and 5.0 boards. Lane's clutch free throws in a sub-state championship game at Olathe East advanced the Firebirds to the 6A state tournament for the first time since 2007.
Cole Moreano, Free State — Using his junior season to develop his all-around game, the 6-foot-4 forward did a little bit of everything for the Firebirds. Moreano averaged 10.5 points, 3.7 rebounds, 2.3 assists and 1.2 steals for Free State, which vastly improved in the final months of the season and earned a state tournament berth.
Jake Mosiman, Lawrence — A member of the All-Sunflower League second team, the 6-foot senior shooting guard punished opponents from behind the three-point arc all season long. Mosiman drilled 54 three-pointers for the Lions in 21 games and averaged 12.1 points and 4.7 rebounds.
Dallas Natt, Ottawa — Too quick for opponents to stay in front of him, the 6-foot point guard for the 4A champion Cyclones liked to joke he was the mastermind behind the team's success because he ran the offense. Natt certainly facilitated, passing out 6.1 assists a game and scoring 9.7 points while serving as the team's emotional leader.
Semi Ojeleye, Ottawa — Moving on to Duke University and Cameron Indoor Stadium next fall, Ojeleye packed gymnasiums in his final season at OHS and never disappointed. A two-time All-State first-teamer, Ojeleye set a new 4A state tournament record with 104 points en route to Ottawa's first state title since 1971.
Justin Roberts, Lawrence — It didn't take the 5-foot-9 freshman point guard long to make his mark at LHS. Roberts controlled the tempo for the guard-oriented Lions and averaged 13.8 points, 3.3 assists and 2.3 steals in his first season of high school basketball.
Nathan Stacy, Mill Valley — A big-time producer for the Jaguars throughout the season — 16.0 points, 8.0 rebounds, 3.5 assists — the senior helped guide MVHS (20-4) to a sub-state championship and a third-place finish at the 5A state tournament. Stacy is Mill Valley's all-time leader in points (1,162) and rebounds (560).
Quinton Verhulst, De Soto — The Wildcats finished second in the Frontier League to 4A champion Ottawa, thanks in part to the junior guard's 12.5 points, 4.5 rebounds and 2.2 assists. DHS went 14-8, with three losses coming against undefeated OHS and another versus 5A's unbeaten champ, Shawnee Mission South.
Honorable mention
Garrett Abel, Santa Fe Trail; Thomas Bachert, Veritas Christian; Nick Becker, Eudora; Chad Berg, Baldwin; Anthony Bonner, Lawrence; Andrew Currier, Veritas Christian; Jack Dale, Tonganoxie; Luke Fursman, Baldwin; Carter Gish, McLouth; Austin Johanning, Perry-Lecompton; Zach Linquist, Perry-Lecompton; Isaac Lueth, De Soto; Brandon McCaffrey, Bishop Seabury Academy; Mito Owino, Bishop Seabury; James Sage, Santa Fe Trail; Cody Scott, Free State; Tyler Shaffer, Santa Fe Trail; Seth Steward, Oskaloosa; Thomas Uhler, Bishop Seabury; Wyatt Voorhes, Mill Valley.
Copyright 2018 The Lawrence Journal-World. All rights reserved. This material may not be published, broadcast, rewritten or redistributed. We strive to uphold our values for every story published.