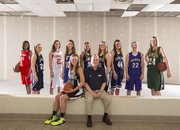 Player of the year:
Kennedy Kirkpatrick, Free State
A three-time member of the All-Sunflower League first team, the senior FSHS guard leaves the program as its career leader in scoring (1,046 points), assists (254), field goals (359) and three-pointers (142). Kirkpatrick, the first 1,000-point scorer in Firebirds history, will play next season at Bowling Green State University, in the Mid-American Conference.
Coach of the year:
John McFall, Mill Valley
The Jaguars entered the postseason having been nearly unstoppable and carried that momentum all the way to the Class 5A state championship game, in which St. Thomas Aquinas barely edged Mill Valley, 23-22. McFall's group gave up just 28 points a game in the state tournament and finished the year with a 22-2 record. Both MVHS losses came by a single point.
First team
Megan Bonar, De Soto — A first-team All-Frontier League selection as a sophomore, the Wildcats' top guard not only scored 15.8 points per game but also contributed 7.8 rebounds, 2.8 assists, 2.1 steals and 3.8 blocks. The athletic, 6-foot-1 Bonar helped DHS go 12-8 overall and 8-3 in the Frontier League.
Alexa Gaumer, Bishop Seabury — The Seahawks combo guard captained the team while averaging 13.4 points, 5.9 assists and 3.9 steals and hitting 46 percent of her field goals. A senior, Gaumer often defended the opponent's top player and kept Seabury moving forward with her play on both ends of the floor.
Katie Jones, Baldwin — With the help of their 5-foot-7 junior guard, the Bulldogs (14-8) advanced to a 4A sub-state championship game, where they lost to Paola. Jones, a member of the All-Frontier League first team, scored 11 points a game and averaged three rebounds and two assists as a junior.
Kennedy Kirkpatrick, Free State — A part of the Firebirds' rotation since her freshman year, Kirkpatrick's last season at FSHS might have been her most challenging, because everyone in the Sunflower League knew they needed to try to stop her. Still, the 5-foot-10 guard put up 13.8 points, 4.0 assists and 3.8 rebounds for Free State (16-6).
Stephanie Lichtenauer, Mill Valley — An All-Kaw Valley League forward, Lichtenauer and the Jaguars came one point shy of a 5A state championship. In the past three seasons, the senior has helped the Jags win 57 games, a stretch in which they lost just 10. She averaged 11.5 points and 5.1 rebounds in her final year.
Tyra Lyday, Ottawa — A reliable offensive option for the Cyclones, the 5-foot-9 senior guard scored in double figures in 16 of Ottawa's 21 games and put up 26 points for her season high. Lyday's 13.9 points, 4.5 rebounds and 2.5 steals earned her a spot on the Frontier League's first team.
Tanner Tripp, Mill Valley — The most aggressive defender on a lock-down team that finished second in 5A, Tripp led the Jaguars in two of coach McFall's favorite categories: deflections and steals. The senior guard also led Mill Valley in scoring (13.9 points) and made 78 percent of her free throws and 38 percent of her three-point shots.
Holly Ullery, Santa Fe Trail — The Chargers' all-time leader in three-point field goals (57), the 5-foot-7 senior forward hit 35 from downtown in her final season at SFT. Ullery nabbed first-team All-Big Seven honors following Santa Fe Trail's 17-5 season, in which she averaged 12.5 points a game.
Jenny Whitledge, Tonganoxie — With 16.0 points and 11.4 rebounds a game, the 5-10 senior forward helped THS to a 15-8 season and landed Tonganoxie in the 4A state tournament for the first time since 2007. Whitledge owns THS career records in rebounds (728) and field goals (443) and is second in career scoring (1,151).
Scout Wiebe, Free State — A role player the previous season, Wiebe emerged as a Firebirds leader as a junior. Not only did the 5-9 forward contribute 10.8 points and 7.0 rebounds a game for Free State, but she became known for her toughness and willingness to dive on the floor and make a play.
Honorable mention
Dani Bowser, Perry-Lecompton; Chelsea Casady, Free State; Kionna Coleman, Lawrence; Mackenzie Conklin, Mill Valley; Shelby Dahl, Santa Fe Trail; Madison Hess, Perry-Lecompton; Courtney Hoag, Bishop Seabury; Kai Jones, Perry-Lecompton; Katie Kehl, Baldwin; Hannah Kemp, Tonganoxie; Kailyn Smith, Baldwin; Mariah Smith, Bishop Seabury; Danelle Topil, Eudora; Katelyn Waldeier, Tonganoxie; Allie Webb, Eudora; Paige Williams, De Soto.
Copyright 2018 The Lawrence Journal-World. All rights reserved. This material may not be published, broadcast, rewritten or redistributed. We strive to uphold our values for every story published.