As Lawrence High's volleyball players exited the locker room Saturday afternoon after the Joan L. Wells Invitational at LHS, none wore the countenance of someone who had just ended a long day with back-to-back losses.
Photo Gallery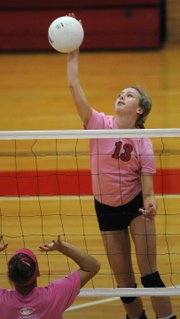 Lawrence High volleyball at Joan L. Wells Invitational
Surprisingly chipper, the Lions felt determined to focus on the positives of a 2-3 record and fourth-place finish at their home tournament. Following a 25-19, 26-24 loss to Shawnee Heights in the semifinals and a 25-20, 25-19 setback against Blue Valley Northwest in the third-place match, the Lions took the stance of genuine optimism instead of disillusionment.
The whole tournament served as an ongoing lesson. LHS (11-9) defeated Shawnee Mission Northwest and Dodge City in morning pool play. Though the Lions lost to Blue Valley, 25-10, 25-9, they finished second in their pool to advance to the gold championship bracket. That stage, senior libero Zoe Reed admitted, meant a different brand of volleyball.
"It gets a lot more challenging, because there's a lot more at stake, and obviously if you lose you don't have a chance to get first," Reed said of the semifinal and third-place matches. "It's just a different environment, and I think today we stepped it up and found out how far we can push ourselves, what works for us and how we can use our momentum and energy to support each other and get farther."
Junior Caitlin Broadwell agreed and said the Lions aim to use this tournament as a turning point as they head toward the postseason.
"I think we took great strides as a team," Broadwell said, noting losses to strong opponents (Blue Valley won the tournament title, Shawnee Heights took second and BVNW finished third) have the potential to make LHS better.
One stretch that could have deflated anyone, no matter how upbeat, came in Lawrence's first set against Shawnee Heights (ranked No. 3 in the Kansas Volleyball Association's Class 5A rankings). LHS seemed on its way to a win, holding a 19-15 lead. But the Thunderbirds rattled off the next 10 points to take the set.
Senior LHS outside hitter Monica Howard said the Lions didn't want to allow the run to have a lasting effect.
"Volleyball's a game of momentum," Howard said. "One play can stop it; one play can just keep it going."
The SHHS run continued into the second set, with five more Thunderbirds points and no LHS answer. Finally, Broadwell scored with a tip. Then Lawrence scored four points in a row. Brealynn May set up Broadwell for a kill, Reed served an ace, Broadwell delivered a block, and LHS scored on a Heights mistake.
LHS coach Stephanie Magnuson said not just that stretch, but the tournament in general, needs to serve as an instruction on how the team can get better.
"It's where you go after that," Magnuson said. "When we end that run, where do we go ourselves?"
Wherever the Lions are headed, Reed made it clear they don't plan to let negatives pile up.
"It's difficult, but I think when we get down on ourselves, it's impossible to get back up," she said. "That's what we're working on."
Copyright 2018 The Lawrence Journal-World. All rights reserved. This material may not be published, broadcast, rewritten or redistributed. We strive to uphold our values for every story published.