Best Event
Lawrence Busker Festival
Fire eaters! Sword swallowers! A woman who can rip a phone book in half!
Just a typical night at Lawrence's annual Busker Festival, which draws dozens of off-the-wall acts for a weekend of curious and jaw-dropping performances. See why BuskerFest is the city's new favorite.
Best Golf Course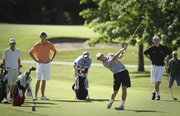 Alvamar Public Golf Course
1800 Crossgate Drive, alvamar.com
Runners up
Eagle Bend Golf Course, 1250 E. 902 Road
Lawrence Country Club, 400 Country Club Terr.
Best View

The Oread
1200 Oread Ave., theoread.com
Runners up
Clinton Lake
Wells Overlook Park
Best Park
South Park, Massachusetts and 12th streets
Runners up
Centennial Park, Ninth and Iowa streets
Clinton Park, 901 W. Fifth St.
Best Place for a Bike Ride
Clinton Lake
Runners up
Levee Trail
River Trail
Best Place for a Run
Kansas University campus
Runners up
Levee Trail
Clinton Lake
Copyright 2018 The Lawrence Journal-World. All rights reserved. This material may not be published, broadcast, rewritten or redistributed. We strive to uphold our values for every story published.