Best-Kept Secret
Terrebonne Po' Boys and Desserts
Tucked inside a tiny lean-to abutting Great Harvest Bread Co., this restaurant is easy to miss if you don't know what you're looking for. But if you make it inside and find a seat (there are only 14), you're in for a treat. What kind of treats? Well, keep on reading.
Best Place for Romance:
715
White tablecloths, roses in vases, accordion music and spaghetti aren't the only route to romance. A little more raucousness can be romantic, too. Add adventurous food and sexy cocktails, and you've got a place that's downright sultry. Why should you take your special someone? Read on.
Best Place for Auto Repairs
Westside 66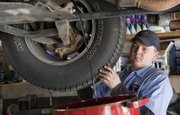 2815 W. Sixth St., westside66lawrence.com
Runners up
Lawrence Automotive Diagnostics, 2858 Four Wheel Drive
Slimmer Automotive Service, 2030 E. 23rd St.
Best Car Dealership
Crown Automotive
3400 Iowa, crownautomotive.com
Runners up
Laird Noller Automotive, 935 W. 23rd St.
Dale Willey Automotive, 2840 Iowa
Best Hair Cut
Moxie Hair Studio
1540 Wakarusa Drive, moxielawrence.com
Runners up
Downtown Barber Shop, 824 Mass.
Green Room Salon, 924 ½ Mass.
Best Grocery Store
Dillons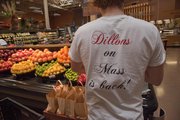 1740 Mass.
4701 W. Sixth St.
3000 W. Sixth St.
1015 W. 23rd St.
Runners up
HyVee, 4000 W. Sixth St. and 3504 Clinton Parkway
The Merc, 901 Iowa
Best Bookstore
Raven
8 E. Seventh St., ravenbookstore.com
Runners up
Dusty Bookshelf, 708 Mass.
Hastings Books Music Video, 1900 W. 23rd
Best Bank
KU Credit Union
3400 W. Sixth St.
2221 W. 31st St.
1300 W. 23rd St.
Runners up
Capitol Federal, 1025 Iowa and 1046 Vt.
Commerce Bank, 955 Iowa, 1500 Wakarusa Drive; 3000 W. Sixth St.; 1301 Jayhawk Blvd.; 1015 W. 23rd St.
Best Apparel Store
(Tie) Weaver's

901 Mass., weaversinc.com
(Tie) Kohl's
3240 Iowa, kohls.com
Runners up
Fortuity, 809 Mass.
Gap, 643 Mass.
Best Shoe Store
Brown's Shoe Fit Co.
829 Mass., brownsshoefitco.com
Runners up
Shark's Surf Shop, 813 Mass.
Foxtrot, 823 Mass.
Best Video Game Store
Game Nut Entertainment
844 Mass.
2540 Iowa
Runners up
Game Stop, 3140 Iowa
Game Guy Video Games, 7 E. Seventh St.
Best Electronics Store
Best Buy
2020 W. 31st St., bestbuy.com
Runners up
Kief's Audio/Video Inc., 2429 Iowa
Radio Shack, 601 Kasold Drive; 711 W. 23rd St.; 3221 Iowa
Best Jewelry Store
Marks Jewelers
817 Mass., marksjewelers.net
Runners up
Goldmakers Fine Jewelry, 723 Mass.
Kizer-Cummings Jewelers, 833 Mass.
Best Flower Shop
Owens Flower Shop
846 Ind., owensflowershop.net
Runners up
Englewood Florist, 1101 Mass.
Dillons, multiple locations
Best Apartment Complex
Meadowbrook Apartments and Townhomes
2601 Dover Square, meadowbrookapartments.net
Runners up
Tuckaway Apartments, 2600 W. Sixth St.
Highpointe, 2001 W. Sixth St.
Best Retail Store
Target
3201 Iowa, target.com
Runners up
Weaver's, 901 Mass.
hobbs, 700 Mass.
Best WiFi
Lawrence Public Library
707 Vt., www.lawrence.lib.ks.us
Runners up
Starbucks, multiple locations
La Prima Tazza, 638 Mass.
Best Gym & Fitness Center
Body Boutique
2330 Yale Road, bodybofitness.com
Runners up
KU Ambler Student Recreation Fitness Center, 1740 Watkins Center Drive
the underground lab, 919 E. 29th St.
Copyright 2018 The Lawrence Journal-World. All rights reserved. This material may not be published, broadcast, rewritten or redistributed. We strive to uphold our values for every story published.