Michael Beard, 715
715 Mass., 715mass.com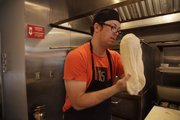 21-year-old Michael Beard worked at the Washington, D.C., restaurant for his internship despite the mix-up.
A hotel restaurant management business student who'd never worked in a kitchen, he was supposed to be in the front of the house. Instead, the restaurant thought he was a culinary student and was expecting him in the back.
"Dumb luck," he says. "By the time the second half rolled around, I told them I'd stay in the kitchen."
Beard went on to culinary school in Florence, Italy, where he found inspiration for the food he creates at 715, the European-style eatery he and a few partners opened in October 2009. Previously, he was sous and then executive chef at Teller's, 746 Mass.
Beard aims to provide quality food at a reasonable price, using as many local, seasonal products as he can. Keep cuisine simple, use your best ingredients and let the food be itself, he says.
Another nod to Europe is built-in portion control. Basically, Beard wants you to enjoy his food while it's hot and nicely presented, and still feel OK afterward. He says small plates with a glass of wine is one of his favorite options.
"I don't think that you should have a big plate of three sides and an entree, and you have to take home some of it," Beard says. "I think getting full but not overeating is what I enjoy most about bistros."
Runners up
l Ken Baker, Pachamama's
l Jesse Bonebreak, Mariscos Restaurant
Copyright 2018 The Lawrence Journal-World. All rights reserved. This material may not be published, broadcast, rewritten or redistributed. We strive to uphold our values for every story published.