Photo Gallery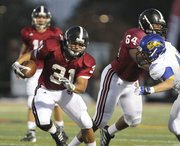 LHS football v. Olathe South
Images from Friday night's game between Lawrence High and Olathe South.
Out in the darkness of Friday evening, 20 yards from Lawrence High's locker room doors, senior Lions defensive lineman Josh Seybert embraced junior linebacker Kieran Severa.
"It was a war out there," Seybert shouted to Severa.
The two Lions, like the rest of the LHS troops, had just fought their way to a 34-27 homecoming victory over defending Class 6A state champion Olathe South.
Seybert and the rest of Lawrence's front seven harassed Falcons quarterback Frank Seurer and O-South's running backs enough to hold them to 3.5 yards a carry. When the circumstances forced O-South (3-2) to pass the ball late in the fourth quarter, Severa made the game's final critical play on a fourth-and-two from the Falcons' 25-yard line with 51 seconds left. The snap flew over Seurer's shoulder, and a foot race ensued between Severa and the QB.
"When I saw that snap over his head," Severa said, "I was just flying to the football."
Summary
OSHS LHS
First downs 14 18
Rushes-yards 59-208 28-108
Passing yards 80 215
Total Offense 288 323
Return Yards 73 95
Fumbles-lost 2-1 0-0
Penalties-yards 2-13 1-5
Score by Quarters
Olathe South 14 0 0 13 — 27
Lawrence 16 12 6 0 — 34
Individual Statistics
Rushing
OSHS: Russell White 24-145 3 TDs, Chase Hanson 12-63, Matt Elliott 7-23, Frank Seurer 16-minus-23 TD.
LHS: Brad Strauss 15-64 3 TDs, Jordan Brown 9-41, Erick Mayo 2-3, Team 2-minus-4.
Passing
OSHS: Seurer 6-11-80.
LHS: Strauss 15-21-215 2 TDs.
Receiving
OSHS: White 1-29, Justin Magott 1-16, Matt Elliott 2-15, James Hart 1-12, Dominick Barbosa 1-8.
LHS: Mayo 4-66, Drake Hofer 5-65 TD, Will Thompson 3-55, Kieran Severa 1-11, Brown 1-9 TD, Josh Seybert 1-9.
HOW THEY SCORED
First Quarter
10:00 — Drake Hofer 11 pass from Brad Strauss. Hofer pass from Strauss. (LHS 8, OSHS 0.)
8:35 — Russell White 64 run. White run failed. (LHS 8, OSHS 6.)
5:53 — Strauss 1 run. Jordan Brown pass from Strauss. (LHS 16, OSHS 6.)
1:27 — Frank Seurer 5 run. Chase Hanson run. (LHS 16, OSHS 14.)
Second Quarter
3:30 — Strauss 2 run. Strauss run failed. (LHS 22, OSHS 14.)
0:47 — Brown 9 pass from Strauss. Strauss pass failed. (LHS 28, OSHS 14.)
Third Quarter
0:47 — Strauss 3 run. Strauss pass failed. (LHS 34, OSHS 14.)
Fourth Quarter
8:26 — White 2 run. Logan Swartz kick. (LHS 34, OSHS 21.)
1:30 — White 1 run. Swartz kick failed. (LHS 34, OSHS 27.)
The 5-foot-11, 175-pound junior flew past his opponent and pounced on the ball, clinching Lawrence's fourth straight victory.
"Last real play of the game, fourth down, you just have to go as hard as you can," Severa said. "Things work out when you do that."
Though both teams put up their share of points, defense keyed the victory for LHS (4-1).
The game opened with both teams scoring touchdowns on their first two possessions before the Lions bucked the trend by holding O-South scoreless on its next four — a stretch that, to the delight of LHS coach Dirk Wedd, spanned the second and third quarters.
"In the first quarter it almost felt like you had to hold serve," the coach said, crediting his defense for going a different direction in the following 24 minutes. "Every time you make them punt or run out of bounds, you feel like you've won."
Almost every defender on the field made a key play at some point for Lawrence.
Jordan Brown with a sack, Kharon Brown with tackles at and behind the line of scrimmage, Seybert pounding ball carriers, Will Thompson handing out the hit of the night in pass coverage, Ryan Bellinger and Seybert combining for a sack, Severa's fumble recovery — all of it added up to make the Lions' victory possible.
Said Strauss: "Our defense … we were bending, but we didn't break. They (O-South) had some pretty long drives, but we stopped them when we needed to and then ran the clock."
Lawrence's grit even showed up on fourth-quarter drives that ended with Falcons touchdowns. It took a two-yard rush on fourth-and-goal with 8:26 left by O-South junior Russell White to end the Falcons' scoring slump. Then, on its next possession, O-South stalled in the red zone, taking just more than two minutes to score. Only 1:30 remained on the game clock when White scored on a one-yard carry to cut the LHS lead to 34-27.
Kharon Brown credited the LHS coaching staff for having the defense prepared to disrupt O-South's run-heavy offense, which ran the ball 59 times for 208 yards.
"We were just so excited. We probably botched so many assignments, but we were just flying to the ball," the senior defensive lineman said. "We just wanted to end it (a possession), get off the field and keep on racking up some points."
That's exactly what Lawrence did in the second and third quarters.
An 11-yard TD pass from Strauss to Drake Hofer and a one-yard TD run from Strauss in the first quarter led to the Lions' 16-14 lead entering the second.
That's when the LHS defense kicked into gear, and the offense complimented it with a pair of scoring drives.
Strauss mixed passes to Erick Mayo and Hofer with some runs of his own before diving into a gap behind Kharon Brown on a two-yard score with 3:30 left that gave the Lions a 22-14 lead.
On Lawrence's next possession, Strauss orchestrated a timely, 38-second TD drive with 4-for-6 passing for 69 yards. The final connection, with 47 seconds left in the half, went to Jordan Brown, who slipped out of the backfield on the right side and bounced into the end zone for a nine-yard TD reception, setting up a 28-14 halftime lead for Lawrence.
After the opening possession of the third quarter — which lasted 5:14 and 42 yards for O-South — ended with Kharon Brown tackling Chase Hanson for a loss on fourth-and-two, the Lions went 69 yards for their final scoring drive, which ate up close to six minutes worth of clock.
Strauss hit Mayo, Thompson and Severa for first downs through the air and eventually tucked the ball on a passing play for a three-yard TD run with 47 seconds to go in the third quarter.
Even though O-South cut Lawrence's 20-point lead entering the fourth down to seven, Strauss said Severa's fumble recovery served as a perfect ending.
"That's how it was all game," Strauss said. "We had guys making plays all over the field, and that's what won us the game."
Copyright 2018 The Lawrence Journal-World. All rights reserved. This material may not be published, broadcast, rewritten or redistributed. We strive to uphold our values for every story published.