News, et cetera, from schools in and around Douglas County: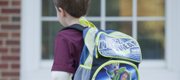 Subscribe to the email edition of First Bell and we'll deliver you the latest local education news and notes every weekday at noon.
• Prairie Park School will have its annual fundraiser from 8 a.m. to 11 a.m. Saturday at the school. There will be a sponsored walk around the park and a pancake breakfast.
Tickets for the breakfast are $6. PTA T-shirts will be for sale. Funds raised will go toward the PTA.
• Know anything that I need to learn? Send news tips, comments or questions to acgarrison@ljworld.com or call 832-6314.
Copyright 2018 The Lawrence Journal-World. All rights reserved. This material may not be published, broadcast, rewritten or redistributed. We strive to uphold our values for every story published.