Overland Park — When the players on one side of the football field know their opponents across the way have been down on their luck, they can either overlook the competition or steamroll it.
Photo Gallery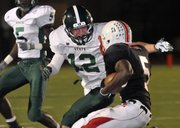 Free State football at Shawnee Mission North
Free State High chose the latter Thursday night at Shawnee Mission North District Stadium, where senior Firebirds wide receiver Tye Hughes' opening act foreshadowed what would become a 55-14 whipping.
The FSHS defense opened the game with a three-and-out, and when Nick Finazzo's punt landed in the hands of Hughes, the show began. The swift, 5-foot-11 senior headed back a few steps, only to fake a reverse handoff to Joe Dineen and turn up the field for a 74-yard touchdown return. It was a near replay of Hughes' punt return for a TD in Free State's season-opening win at Olathe Northwest.
"I had to break one arm tackle right off the start," Hughes said of his first of three touchdowns against SMN (0-5), "but then it was just wide, open field from there."
The Indians momentarily regrouped with a first down on their next possession, but after Finazzo's quick kick was downed at the Free State eight-yard line, Hughes struck again on the Firebirds' first play from scrimmage.
Senior FSHS quarterback Kyle McFarland (8-for-13 passing, 162 yards), expecting a blitz from the SMN linebackers, faked a handoff to running back TJ Cobbs and quickly dumped off a pass to Hughes on the left flank. Wide open on the play, Hughes sprinted 92 yards for another score and Free State led 14-0 less than six minutes into the game.
Said McFarland of Hughes: "If he gets to the outside, open field, he's gone. He's proven that like three times. It's over once he gets past all the blockers."
Firebirds coach Bob Lisher appreciated the way Hughes and his teammates came out and attacked.
"It's tough when you're struggling a little bit on the other sideline to keep your head up when (the opponent) has two big plays the first time they touch the ball," Lisher said.
As the defense continued to stymie SMN in the first half with tackles in the backfield by Corban Schmidt, Fred Wyatt and Cody Stanclift, Free State (4-1) built upon its lead with a late first-quarter rushing TD by Cobbs. On the Firebirds' next possession, to open the second quarter, Dineen gave McFarland a breather at quarterback. The junior pitched the ball to senior running back Demarko Bobo on an option play to the right side that turned into a 46-yard score for Bobo.
Later, McFarland put together an efficient two-minute drill to cap a near flawless first half for FSHS. The Firebirds started on their own 16 with 1:49 left, but McFarland connected on passes to Zach Bickling, Cobbs and Chris Heller before breaking two 20-plus yard runs.
With just seven seconds left on the clock, and the Firebids on the SMN 22, McFarland found Hughes (five receptions, 137 yards, two touchdowns) for a 15-yard gain and the Firebirds called a timeout just in time to run one final play with under a second remaining.
McFarland rolled to the right and when Hughes found a soft spot in the Indians' zone, he raised his arm up, caught a pass through contact and leaned into the end zone, setting up a 34-0 Free State halftime lead.
After the Firebirds' defense struggled to stop the run the past few weeks, McFarland said the unit turned things around versus SMN.
"We shut them down all game," the senior defensive back said.
The Indians rushed 47 times for 209 yards, but 90 of those came in the fourth quarter, with Free State's top defenders resting. The Indians also had to play most of the night without junior running back Jesse Patterson (seven carries, 23 yards), who got injured covering a punt late in the first quarter.
Still, Lisher said this game had been about getting the defense playing to its full capability.
"It was a short week," the coach said, "but we spent a lot of time defensively trying to shore some things up."
While Dineen manhandled his way to touchdown runs of 58 and 30 yards in the second half, and Bobo rushed for another TD, the defense continued to do its part. Schmidt recovered a SMN fumble in the third quarter and Carson Bowen had a tackle for loss in the fourth as FSHS finished off its opponent.
The defense, junior end Wyatt said, showed improvement.
"Coming out here and being able to stop them as much as we did," he said, "is a real morale booster."
BOX SCORE
Free State 55, Shawnee Mission North 14
FSHS SMN
First downs 14 7
Rushes-yards 36-350 47-209
Passing yards 174 34
Total offense 524 243
Return yards 74 106
Fumbles-lost 1-0 1-1
Penalties-yards 4-35 3-25
Score by quarters
FSHS 21 13 14 7 — 55
SMN 0 0 7 7 — 14
Individual statistics
Rushing
FSHS: Kyle McFarland 9-128, Joe Dineen 5-93 2 TDs, Demarko Bobo 4-58 2 TDs, Stan Skwarlo 8-41, TJ Cobbs 6-35 TD, Nyle Anderson 2-minus-1, Team 2-minus-4.
SMN: Jesse Patterson 7-23, Mario Louis 22-76, Caleb Denman 6-1 TD, Henry Bell 9-108 TD, Jacob Langley 1-3, Nick Finazzo 2-minus-2.
Passing
FSHS: McFarland 8-13-162 2 TDs, Dineen 2-2-12.
SMN: Finazzo 2-6-34.
Receiving
FSHS: Tye Hughes 5-137 2 TDs, Chris Heller 1-11, Zach Bickling 1-9, Saxon Mingus 1-7, Miles Stevens 1-5, Cobbs 1-4, .
SMN: Marcus Oropeza 2-34.
HOW THEY SCORED
First quarter
10:02 — Tye Hughes 74 punt return. Chris Heller kick. (FSHS 7, SMN 0.)
6:29 — Hughes 92 pass from Kyle McFarland. Heller kick. (FSHS 14, SMN 0.)
2:35 — TJ Cobbs 1 run. Heller kick. (FSHS 21, SMN 0.)
Second quarter
10:14 — Demarko Bobo 46 run. Heller kick failed. (FSHS 27, SMN 0.)
0:00 — Hughes 7 pass from McFarland. Heller kick. (FSHS 34, SMN 0.)
Third quarter
9:08 — Bobo 2 run. Heller kick. (FSHS 41, SMN 0.)
4:12 — Caleb Denman 1 run. Armando Contreras kick. (FSHS 41, SMN 7.)
3:59 — Joe Dineen 58 run. Heller kick. (FSHS 48, SMN 7.)
Fourth quarter
10:35 — Dineen 30 run. Heller kick. (FSHS 55, SMN 7.)
5:06 — Henry Bell 76 run. Contreras kick. (FSHS 55, SMN 14.)
Copyright 2018 The Lawrence Journal-World. All rights reserved. This material may not be published, broadcast, rewritten or redistributed. We strive to uphold our values for every story published.