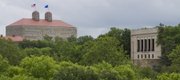 Subscribe to the email edition of Heard on the Hill and we'll deliver you the latest KU news and notes every weekday at noon.
Your daily dose of news, notes and links from around Kansas University.
• Enrollment data for Kansas Board of Regents institutions for fall 2012 was released yesterday, and you can read on this website and in this morning's paper a bit about what the numbers mean for KU. In short, total enrollment fell again, but the freshman class size is up, and officials say that portends good things in the future.
Of course, there are endless ways to analyze all of KU's enrollment data, and the stories in different schools and departments can be different. So here's a look at the numbers at each of KU's individual schools:
Liberal Arts and Sciences — 14,035 in 2012; 14,906 in 2011; down by 871 or 5.8 percent.
Architecture, Design and Urban Planning — 986 in 2012; 1,006 in 2011; down by 20 or 2 percent.
Business — 1,674 in 2012; 1,641 in 2011; up by 33 or 2 percent.
Education — 1,723 in 2012; 1,790 in 2011; down by 67 or 3.7 percent.
Engineering — 2,751 in 2012; 2,551 in 2011; up by 200 or 7.8 percent.
Health Professions — 559 in 2012; 603 in 2011; down by 44 or 7.3 percent.
Journalism — 832 in 2012; 922 in 2011; down by 90 or 9.8 percent.
Law — 466 in 2012; 490 in 2011; down by 24 or 4.9 percent.
Music — 505 in 2012; 527 in 2011; down by 22 or 4.2 percent.
Nursing — 777 in 2012; 698 in 2011; up by 79 or 11.3 percent.
Pharmacy — 700 in 2012; 656 in 2011; up by 44 or 6.7 percent.
Social Welfare — 541 in 2012; 589 in 2011; down by 48 or 8.1 percent.
Medicine — 2,039 in 2012; 1,999 in 2011; up by 40 or 2 percent.
• If you've ever wished to learn how to work with wood veneer, then boy, does the KU Sculpture program have some good news for you. The program will provide a free public wood veneer demonstration Saturday, from 9 a.m. to noon in Room 103 of KU's Art and Design Building.
The instructor will be Gunter Devries, a senior carpenter for KU Facilities and Operations who has been woodworking for more than 50 years, since he was a teenager growing up in Germany. Associate professor Matthew Burke of the sculpture program has high praise for him: "I'd put money that he knows more than any single person in Lawrence about woodworking," Burke says.
This sort of demonstration might run you a pretty good cost elsewhere, Burke said, so here's a rare chance for some free education.
• And if you prefer to gaze at the works fashioned by other people's hands rather than fashioning your own, then the KU Campus Art Walk today may be more your kind of thing.
It runs from 1:30 to 6 p.m., starting in front of Dyche Hall and moving into a bunch of buildings on campus where artists and their work will be located.
More details are at ku.edu/artwalk.
• Here at Heard on the Hill, our enrollment this fall is 1, the same as in 2011. To make sure we maintain that number, please send your KU-related tips to merickson@ljworld.com.
Copyright 2018 The Lawrence Journal-World. All rights reserved. This material may not be published, broadcast, rewritten or redistributed. We strive to uphold our values for every story published.