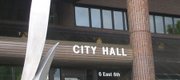 Subscribe to the email edition of Town Talk and we'll deliver you the latest city news and notes every weekday at noon.
News and notes from around town:
• I'll exit a barbecue joint without sauce on my tie before I ever again believe that Vermont Street BBQ is going to reopen.
Back in July we reported that signs were up in the window at 1004 Mass. announcing that Vermont Street BBQ was making a return. Construction work definitely was under way at the spot, but I never could get anyone associated with the business to call me back.
Well, the signs are gone and the deal is dead. Nancy Nguyen, a longtime downtown restaurant owner who was going to turn over her Angler's Seafood spot to Vermont Street BBQ, said she is no longer working with the group.
"The negotiations fell through," Nguyen said. "That's all I want to say."
This marks the second time there has been a false start with the folks at Vermont Street BBQ. Back in 2011 signs also showed up in the window of the former Joe College T-shirt shop on Mass. Street announcing Vermont Street BBQ would once again start slathering pork butts, brisket, ribs, turkey and various articles of my clothing with barbecue sauce. But that deal too fell through.
So, who knows, maybe a sign will show up somewhere else. But I'm thinking if you want pulled pork, you'd be better off grabbing a pig and yanking (Or, I suppose you could go to any one of the other half-a-dozen barbecue restaurants that operate in the city. Take it from a man who spent a summer saving a 4-H pig: That might be easier.)
• It is not just my tie that comes out a winner with this latest news. Fans of The Orient and Oh Boy! Chicken also are beneficiaries of this latest turn of events.
Now that Vermont Street BBQ won't be taking the space, Nancy Nguyen's The Orient restaurant and Oh Boy! Chicken will be expanding into the space. Both restaurants already are operational right next door to the spot that was set for Vermont Street BBQ. So the two restaurants will use the remodeled space — which includes a full bar and seating for about 50 — to expand their offerings.
Nguyen has been operating The Orient in one form or another since 1978, which makes it one of the longer running restaurants in downtown.
But this latest episode with Vermont Street BBQ has taken a toll on her business, she said. Both The Orient and Oh Boy! Chicken closed for about a month to accommodate the remodeling work that was going on with the Vermont Street BBQ space, which is connected to her restaurants.
But Nguyen said she thinks customers got the wrong idea that Vermont Street was going to take over the entire spot, and now people don't know that the plan was always that her restaurants were going to reopen.
Well, they are reopened now, and The Orient is much like it always has been. You can get dishes such as Phat Thai, Pho noodle soup, Canh Chua, which is a hot and sour soup with pineapple, onion, lime, hot pepper broth and seafood. There is even a dish called MI Nuoc, which comes with the option of homemade fishballs.
The bigger changes are on the Oh Boy! Chicken side of the business. The fried chicken restaurant has added a walk-up window that allows people to order from the Mass. Street sidewalk. Nguyen is keeping the window open Thursday through Saturday from midnight to 3 a.m. in an effort to get the late night-bar crowd that thinks a few pieces of fried chicken would be just the thing to settle the rumblings in the tummy.
Nguyen tells me she also plans to soon launch a chicken and waffle combination that she thinks will be popular with that crowd.
The restaurant also is playing up that it doesn't serve your ordinary type of fried chicken. The chicken is dredged in seasoned rice flour, is glutten-free, and then is fried in a pressure cooker. (Ah, pressure cookers. Growing up, my grandma convinced me a pressure cooker was only slightly less dangerous than the Atom Bomb. Never go into the kitchen when the pressure cooker is going. But I like fried chicken, so I'm going to risk it. I just won't tell my grandma.)
The restaurant also is trying to offer some sides like fried okra, hush puppies and sweet potato fries and jasmine rice.
As for Angler's Seafood Restaurant, well it has ended like many of my fishing trips. (Well, actually nobody fell out of a boat or anything like that.) But the restaurant no longer is operating. Nguyen said the restaurant was flying in fresh seafood three times per week, and the cost to do so made it difficult to pencil out. So Nguyen is now focusing on the other two restaurants.
• Someday, I'm going to buy a second home to store all my stained ties and to play with pressure cookers. I haven't done so yet, but people were buying Lawrence homes in August for one reason or another.
The latest numbers from the Lawrence Board of Realtors indicate the trend of a rebounding Lawrence housing market continues. Home sales in August were up 38 percent in Lawrence. Specifically, there were 94 homes sold in the city in August, up from 68 in August 2011.
For the year, home sales are now up 21 percent from the same period a year ago. A total of 646 homes have sold in the city, up from 533 during the same period a year ago. Sales of newly constructed homes also are up nearly 15 percent for the year, totaling 54 through August.
The numbers represent the fifth month in a row that homes sale totals are higher than the same month a year ago. The latest data has local real estate leaders now predicting the Lawrence market has turned a corner.
"With the combination of decreasing current inventory levels, low interest rates and strong activity, the current trend looks to continue through the fall, said Oliver Minnis, president of the Lawrence Board of Realtors.
The other trend that seems to be cementing itself is that selling prices have dropped. Through August, the median sales price was down 6 percent from the same period a year ago, now checking in at $158,000.
A couple of other interesting numbers include:
— The median number of days a home sits on the market actually is up slightly from a year ago, standing at 61 today compared with 55 a year ago.
— The number of homes on the market in August stood at 479, down nearly 15 percent from the 569 on the market at this time last year.
Copyright 2018 The Lawrence Journal-World. All rights reserved. This material may not be published, broadcast, rewritten or redistributed. We strive to uphold our values for every story published.