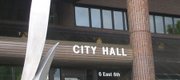 Subscribe to the email edition of Town Talk and we'll deliver you the latest city news and notes every weekday at noon.
News and notes from around town:
• Let's consider this the appetizer version of Town Talk: The portion sizes are small and there's not much meat on the plate, but if I could charge $7.50 apiece for them, I would. Anyway, here we go:
— It sure looks like Vermont Street BBQ is going to make a return to Massachusetts Street. There are signs up at 1004 Mass. — where Anglers has operated — that say Vermont Street BBQ will be opening soon. I stopped by the site, and indeed construction work on the interior is underway.
My understanding is that Chris Brann, the former general manager for the once-popular restaurant, is leading the new operation. Brann had previously acquired the rights and recipes for Vermont Street BBQ, and had struck a deal to reopen the restaurant in the 700 block of Mass., where Joe College used to be located. But that deal fell through last summer. It looks like work on this new place is farther along that Brann ever got in the 700 block.
Vermont Street BBQ, which — get this — actually used to be on Vermont Street once upon a time, closed in September 2009 after about seven years in business. When I talked to Brann last year, he said people still were lamenting the restaurant's closing.
"I've got all those old recipes in my head," Brann said. "It really has become a passion for me. People kept telling me how much they liked our barbecue, so I want to bring it back."
I've got a call into Brann again, but haven't heard from him. When I do, I'll pass along a timeline for the restaurant to reopen.
— If you are a fan of the seafood restaurant Anglers and are wondering what this means for that establishment, it looks like it will continue on.
In the space at 1006 Mass. — just one door down from the Vermont Street location — there are a lot of signs indicating that Anglers, Oh Boy! Chicken and The Orient all will be located in the space. Currently, it appears all three restaurants are temporarily closed while remodeling work is underway at the building. The sign indicates the trio of restaurants will open in about two weeks.
One piece of construction work that already is completed, though, is the building has added a pass-through window onto Massachusetts, so that you'll be able to make food orders from the sidewalk.
— Take this one for whatever you think it is worth, but word on the street is that an Indian restaurant will be opening in the vacant space at 918 Mass. Allison Vance Moore with Colliers International previously has confirmed to me that she has a deal pending on the space, which used to house the funky shop Beyond the Door. But Moore wasn't able to spill the beans on the tenant. So, we'll wait and see, but if it is true, it would continue a bit of a trend of Indian-based establishments locating on Mass. Recently, Cosmos, an Indian retail store opened in the 700 block of Massachusetts, and Curry in a Hurry last year set up shop in the 1100 block of Massachusetts.
• Here's a little bit different piece of restaurant news for Downtown Lawrence. A company called Restaurant Link has moved into the U.S. Bank Tower at Ninth and Mass.
The company doesn't serve up any food itself, but it helps restaurants around the country serve up food in more efficient ways. The company was founded years ago by Richard King, who used to be a partner in the old Molly McGees sports bar and restaurant in Lawrence.
The company had offices out on 23rd Street, but wanted to be part of the downtown environment. Plus, the business needed a bit more space because it has been one of the odd exceptions where a down economy has been good for business.
"Our business went through a substantial growth period when the economy was tanking," King said. "When the restaurant business was down, there were more restaurants out there looking to save money."
Restaurant Link works with restaurants on food and beverage purchasing contracts, online ordering systems and other bottomline boosters. The company recently grew from four employees to six employees at the Lawrence headquarters, but it has about two dozen employees scattered at branch offices across the country.
The previously mentioned Allison Vance Moore with Colliers brokered the deal for the U.S. Bank Tower space.
• One deal that is no longer being brokered is a planned merger between Corner Bank, which has some operations in Lawrence, and Vintage Bank Kansas, which is headquarters out of the small community of Leon.
We reported in March that CornerBank, which is based in Winfield, would sell its stock to Vintage Bank Kansas. The deal was a bit unique in that Vintage Bank is a smaller bank that CornerBank — $270 million vs. about $12 million — but Vintage had a plan to create a new bank holding company that would allow it to expand into several communities. Executives from both CornerBank and Vintage were expected to join forces to create the new bank holding company.
But now the deal is apparently off. A release from the two banks announced they had agreed to terminate the deal. No real reasons were given.
"Given the passage of time and specific requirements detailed in the agreement, both CornerBank and Vintage agreed it was in both parties' best interest to terminate the agreement," Steve Worrell, president and CEO of Vintage Bank Kansas said in the statement.
Both sides left open the possibility of merger talks between the two parties restarting at some point.
Copyright 2018 The Lawrence Journal-World. All rights reserved. This material may not be published, broadcast, rewritten or redistributed. We strive to uphold our values for every story published.