Emergency workers responded Wednesday morning to the 900 block of New Hampshire Street, where they found an injured man on the sidewalk near the parking garage.
Eve Tolefree, Lawrence-Douglas Fire Medical Division Chief, said crews were dispatched to the scene at about 9:30 a.m., and found a man in critical condition stemming from a traumatic injury. Tolefee said they did not have other details about the case to release.
The man was flown by air ambulance to Kansas University Hospital in Kansas City, Kan.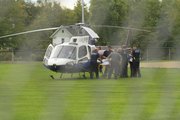 Copyright 2018 The Lawrence Journal-World. All rights reserved. This material may not be published, broadcast, rewritten or redistributed. We strive to uphold our values for every story published.