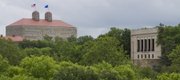 Subscribe to the email edition of Heard on the Hill and we'll deliver you the latest KU news and notes every weekday at noon.
Your daily dose of news, notes and links from around Kansas University.
• A new online gaming site apparently owes its existence to a friendship forged at KU.
According to the Morning Sun of Pittsburg, Kan., three former KU students and roommates have launched a new site, Roll20.net, this month with the help of the crowd-sourced investment site Kickstarter.
The site, which is free to use, reportedly helps people play games that would normally take place on a board, or perhaps just on sheets of paper, with friends or family online.
The three founders — Riley Dutton, Nolan T. Jones and Richard Zayas — came up with the idea as a way for them to continue playing Dungeons and Dragons together after they went their separate ways upon leaving KU, the Morning Sun reports. They say you could also use the site to play board games such as Monopoly.
The site got a writeup on the news site Mashable while its Kickstarter campaign was going on.
I've never played Dungeons and Dragons, but various references in pop culture (including perhaps my favorite episode of the TV show "Community," which revolved around a D&D; game) lead me to believe the name Roll20 is a reference to the 20-sided die used in the game.
• I spent part of Tuesday learning about all of the research activity that goes on in different places on KU's West Campus. One thing I learned is that multimillion-dollar research grants can originate in unexpected places.
Blake Peterson, a distinguished professor of medicinal chemistry, told me that an $11 million, five-year grant received by KU earlier this month was born, in a way, at a Lawrence McDonald's restaurant.
The first talk he had with Susan Lunte, a professor of chemistry and pharmaceutical chemistry, about the possibility of seeking the grant took place when the two ran into each other at McDonald's one day, where Peterson had taken his daughter for a Happy Meal.
Peterson, Lunte and molecular biosciences professor Erik Lundquist, the third researcher involved with the grant, occasionally refer to it among themselves as the "McDonald's grant," he said.
The grant from the National Institutes of Health established a third Center of Biomedical Research Excellence (COBRE) at KU, which will help researchers investigate the causes of various diseases, including cancer.
• In other grant news, KU will also be the recipient of a $4.9 million grant to create a national center to help schools educate students with disabilities in settings where they'll be alongside other students without disabilities.
The grant was announced Tuesday by the U.S. Department of Education, and the center is to be called the Technical Assistance Center for Inclusive School-Wide Reform.
U.S. Education Secretary Arne Duncan said in a release that research showed that students with disabilities benefit from inclusion in regular classrooms.
We haven't yet gotten word from KU on how exactly the center will manifest itself, presumably as part of the university's top-ranked special-education department, but we'll fill you in as soon as we find out. A little Google work shows that the USDE invited applications for the grant this summer.
• Please send all your juicy Heard on the Hill tips to merickson@ljworld.com. We'll be glad to come meet you at McDonald's to talk them over, if you like.
Copyright 2018 The Lawrence Journal-World. All rights reserved. This material may not be published, broadcast, rewritten or redistributed. We strive to uphold our values for every story published.