Free State High sophomore tennis player Taylor Hawkins had heard about her program's dominance against rival Lawrence High through the years. It made her city showdown-clinching victory at No. 5 singles Tuesday at LHS feel even more important, especially considering Hawkins spends most of her time playing doubles for the Firebirds.
Photo Gallery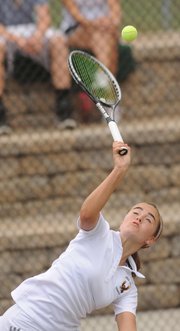 Free State at Lawrence High tennis
Out of her normal habitat, Hawkins eased into an 8-3 win over Lawrence junior Zoe Schneider that allowed Free State to edge the Lions, 5-4. She felt some pressure to win, knowing Lawrence had the potential to knock off some of her teammates in the other ongoing singles matches, but eventually Hawkins got her forehand shots and serves working to her advantage.
"At first I was really nervous, and I didn't know what to do," said Hawkins of playing singles, "but I finally got in the groove and found out what her weaknesses were and stuff, so that helped a lot."
The dual victory improved Free State's all-time record in the rivalry to 15-1.
"I wanted to keep it going," Hawkins said. "It means a lot."
A Hawkins loss would have doomed the Firebirds. FSHS held a 4-1 lead in matches, with four singles battles left to finish. After Hawkins sealed her team's win, Lawrence earned three victories to close the dual. Brooke Braman beat Megan McReynolds, 8-7 (7-2) in a tiebreaker, Abby Gillam defeated Alyssa Raye, 8-3, and Lily Abromeit held off Caitlin Dodd, 8-6.
Braman rarely plays singles for LHS, but she does in the summer, so she channeled that in her tiebreaker win after admittedly losing some focus when a 15-minute rain delay paused her match with McReynolds at 4-4.
"The tiebreaker was kind of a relief," Braman said. "It felt like a new chance and kind of a new beginning. I was able to start with a clean slate and go from there."
LHS coach Chris Marshall felt proud about the play of his senior captains, Abromeit and Braman, in the narrow loss.
"I thought we had a shot," Marshall said, "and unfortunately some of our girls were so excited about the match that I think the adrenaline got to them."
Free State coach Oather Strawderman, too, was grateful for senior experience on his team. Emily Sadosky contributed to two of the Firebirds' five wins. She and freshman Caitlin Dodd's No. 2 doubles match against Abromeit and Braman early in the afternoon started off close before the Firebirds ran away to win, 8-3. Sadosky followed it up with an 8-0 defeat of Kendall Pritchard at No. 3 singles.
"The fact that she was able to go back out there only having played a little bit of singles this year in our other duals and win 8-0 is a testament to her senior leadership as our captain," Strawderman said.
The wins pleased Sadosky, who credited Dodd for "rocking her volleys" in the doubles win. In singles, Sadosky added, she kept calm when she trailed in a game and was able to come back for an 8-0 sweep.
"It sounds dominating, but Kendall's a great player, too," Sadosky said. "We had some back-and-forths several times, so the score didn't tell the entire story."
Firebirds junior Alexis Czapinski also contributed to a pair of wins at the dual. She defeated Whitney Simons, 8-0, in No. 1 singles after teaming with McReynolds to beat Schneider and Gillam, 8-3, in No. 1 doubles.
Simons said Czapinski combines placement with power.
"For me, my favorite shot is my backhand, so when I hit those across court that goes to her forehand, because she's a lefty," Simons explained. "If I hit a bad backhand, she just nails it into the corner."
Simons found more success in No. 3 doubles earlier in the afternoon. She and Haley Ryan won via tiebreaker against Hawkins and Raye, 8-7 (7-5).
"At first we weren't really into it and made a lot of unforced errors," Simons said, "then we just wanted to get it over the net and be consistent so they would make errors."
Though an LHS win would have elated Marshall, he was glad to see such a competitive dual between the Lions and their annual adversaries, the Firebirds.
"That gives me hope for the future," he said, "and makes me proud of the team we have."
Copyright 2018 The Lawrence Journal-World. All rights reserved. This material may not be published, broadcast, rewritten or redistributed. We strive to uphold our values for every story published.