The smell of cabbage wafting from the basement kitchen is a surefire sign it's Oktoberfest time at St. John the Evangelist Catholic Church.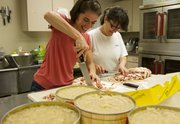 German food 101
In addition to familiar fare such as bratwurst and hot dogs, the menu at this year's Oktoberfest includes these German specialties.
Spaetzal: Soft German egg noodles, also called Spätzle
Wienerschnitzel: A breaded and fried veal cutlet
Cabbage Roll: Meat and rice wrapped in a cabbage leaf, cooked and topped with tomato sauce
Bierock: A hot handpie, typically filled with ground beef and cabbage
Sauerkraut: Finely sliced and pickled cabbage
The beer will be German, too — Warsteiner Oktoberfest, Dunkel and Pilsener, and Franziskaner
Hefe-Weisse.
Volunteers started cooking Monday to prepare for this weekend's feast, where some 2,000 attendees are expected to devour 300 pounds of sauerkraut, 400 bierocks and 500 bratwursts — and those are only a few of the offerings.
"Come early," said Ellen Shobe, the church's food committee chairwoman. "They run out every year."
Oktoberfest is planned from 4-10 p.m. Saturday outside the church, 1234 Ky., rain or shine. Admission is free and includes children's activities such as a bounce-house and face painting; food and beer will be for sale. The Ed Grisnik Polka Band starts playing at 6 p.m.
Parishioners said the annual event, now in its 16th year, was started by a former priest who hailed from the German-settled Hays area and has become a coming together for church and community members alike.
"I can't think of anything that builds more of community and family than getting together, preparing humongous meals together, and sharing them," said Deanne Arensberg, Lawrence, who was chopping bacon Monday night at the church.
Some of that bacon is slotted for the saurkraut — a sweet recipe, with apples and brown sugar — and some for the German potato salad. Other planned menu items include Wienerschnitzel, cabbage rolls and spaetzal, a new item for St. John's Oktoberfest.
"My favorites are the things that you can't get every day, like schnitzel, and the bierocks, and the homemade sauerkraut," Arensberg said.
When it comes to food, St. John may be even better known for its annual summertime Mexican Fiesta, which draws bigger crowds and raises more money for church programs.
Oktoberfest is the same idea — and represents the cultural heritage of a different group of church members — but on a smaller scale.
"We don't raise the money that the fiesta raises," Shobe said. "We're here to have fun, and if we raise a little extra, that helps."
Among volunteers Monday was Shobe's 17-year-old son Nate Shobe, who, in addition to other chores around the kitchen, acted as bierock taster-in-chief. The bierock count may be a few less than 400 by the time the weekend arrives.
But hey, that's part of quality control, right?
"It's not my fault these are delicious," Nate said.
— Features reporter Sara Shepherd can be reached at 832-7187. Follow her at Twitter.com/KCSSara.
Copyright 2018 The Lawrence Journal-World. All rights reserved. This material may not be published, broadcast, rewritten or redistributed. We strive to uphold our values for every story published.