News, et cetera, from schools in and around Douglas County: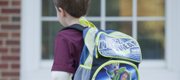 Subscribe to the email edition of First Bell and we'll deliver you the latest local education news and notes every weekday at noon.
• The Pickney PTO group is starting a "coffee cart and conversation" before school on Friday. They're also selling Pickney Panther cups for $10.
• The College Board released the SAT scores Monday, and the state average is slightly higher than the national average. Expect more information on the district scores on the college prep test later today.
• Know anything that I need to learn? Send news tips, comments or questions to acgarrison@ljworld.com or call 832-6314.
Copyright 2018 The Lawrence Journal-World. All rights reserved. This material may not be published, broadcast, rewritten or redistributed. We strive to uphold our values for every story published.