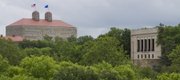 Subscribe to the email edition of Heard on the Hill and we'll deliver you the latest KU news and notes every weekday at noon.
Your daily dose of news, notes and links from around Kansas University.
• I stopped by the Berkeley Flats apartment complex near the KU campus Thursday morning last week and talked with a couple of students who lived in the two buildings struck by a fire late Wednesday night. One of them told me that the Student Affairs office at KU had made their lives much easier as they waited to re-enter their apartments to see which of their belongings were salvageable.
You may have noticed in our first report on the fire that Frank DeSalvo, associate vice provost for student affairs at KU, was at the complex that night talking with the displaced students.
It turns out that Student Affairs has a staffer on call at all times in case of a disaster like this, DeSalvo told me Friday, and Wednesday was his night. Lawrence-Douglas County Fire Medical and the Lawrence Police Department know to contact the office when students are in trouble, he said.
Following the fire, Student Affairs has referred the students to the KU Bookstore where damaged textbooks and class materials have been replaced for free, DeSalvo said. It also procured a free parking pass for one student who did not have one because he lived so close to campus and couldn't afford to buy one now that he'll have to move farther away.
"Our goal is really to get them back in the classroom as quickly as possible," he said.
The department also notified the students' instructors about the fire, and one student I talked with told me she'd been excused from a test Thursday.
• In the category of KU faculty being featured by national media outlets, today we have Jonathan Earle, an associate professor of history who was interviewed on NPR's Weekend Edition on Sunday about the Homestead Act of 1862.
The Homestead Act shaped a lot of the history of this part of the country, and Earle discusses that in the interview while also working in mentions of both Whoopi Goldberg and Tom Cruise.
Click that link above to find the interview in both audio and transcript form.
• Like many of the settlers who were drawn here by the Homestead Act, KU's Leonard Krishtalka late last week was en route to Kansas from northern Europe. Krishtalka, the director of KU's Biodiversity Institute, was in Norway at a conference organized by the Global Biodiversity Information Facility.
The experts there discussed climate change and the effects it could have on things such as coffee and artic foxes, both of which I'm a fan of, as noted in a report by Reuters.
Krishtalka is the chairman of the GBIF's science committee.
• With the swiftness of an arctic fox that has downed several cups of coffee, tipsters have already sprung into action to help me out since I began Hearing things on the Hill last week. Join them by sending your tips to merickson@ljworld.com.
Copyright 2018 The Lawrence Journal-World. All rights reserved. This material may not be published, broadcast, rewritten or redistributed. We strive to uphold our values for every story published.