Lawrence High's Grace Morgan and Claire Sanner, Free State's Trail Spears and Bishop Seabury's Kate Albrecht ran to top-30 finishes in their various divisions during the Rim Rock Farm Classic on Saturday.
Photo Gallery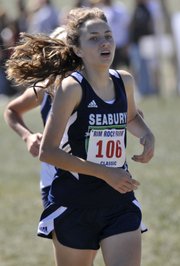 City runners at the 2012 Rim Rock Farm Classic
Morgan, who ran a 15:20, led all city runners with a 13th-place finish in the gold division of the girls varsity 4K. Sanner's 15:46 in the same race placed her 29th individually and helped pace the Lions girls to 15th place with 410 points in the team standings.
Spears led the Free State boys varsity team to a 12th-place finish (353 points) in the crimson division with a 17:05 time in the 5K.
Albrecht, in the girls blue division varsity 4K, placed 23rd with a time of 16:29.
Other top-50 city finishers in the varsity races were the Firebirds' Ryan Liston (41st place, 17:15) and Bailey Sullivan (35th, 15:54) and Seabury's Brandon McCaffrey (42nd, 17:52).
The Lions boys finished 31st out of 32 teams in the gold division with 793 points. The Free State girls combined for 504 points and a 21st-place finish.
In the junior varsity races, the Free State boys ran to a fifth-place finish in the crimson division. Thomas Becker (18th place, 18:28) paced the Firebirds to their 157 points.
Lawrence High's junior varsity boys finished 20th.
The Free State girls JV placed 13th, with Lawrence High coming in at 16th.
The Lawrence High cross country teams will compete Saturday at the Seaman Invitational. Free State will race next on Oct. 6 at Haskell.
Copyright 2018 The Lawrence Journal-World. All rights reserved. This material may not be published, broadcast, rewritten or redistributed. We strive to uphold our values for every story published.