Photo Gallery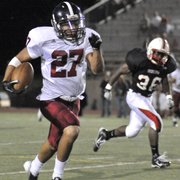 LHS football at SM North
Overland Park — Each week, Lawrence High quarterback Brad Strauss seems to find a different avenue for impressing his teammates. Strauss, a 6-foot-1, 180-pound senior, turned heads with a mistake Friday night at Shawnee Mission North District Stadium.
On the second play of the third quarter, Strauss nearly turned the ball over to Shawnee Mission North with a triple-option pitch that was tipped by an Indians defender. But instead of panicking and making matters worse, the Lions' do-everything QB fielded the fumble on the run and took off for a 40-yard rushing score — one of his five total touchdowns in a 46-20 LHS victory.
Initially, Strauss faked a handoff up the middle to senior running back Jordan Brown, then he moved to the right, where senior receiver Erick Mayo awaited the pitch.
"The kid jumped out there and tipped it, and I got a lucky bounce," Strauss said. "It came right back up to me, and I just took off."
Once Strauss (124 rushing yards, two touchdowns) secured the botched pitch, he headed left and went untouched by the Indians (0-4) en route to the end zone.
LHS senior lineman Kharon Brown, blocking on the play, had no idea what had just happened. Confused when the crowd reacted, he turned around and saw Strauss moving for the loose ball.
"I thought either he was gonna get hurt, or they (the Indians) were gonna pick it up and score," Kharon said. "I had no idea he was gonna do that."
On a night Strauss completed 10 of his 19 pass attempts for 159 yards, three touchdowns and an interception, the avoided disaster that gave LHS a 24-7 lead a minute into the second half stood out.
"I've never had a play like that, never seen a play like that happen," Strauss said. "That was just crazy."
It helped the Lions (3-1) get on track in the third quarter. Coach Dirk Wedd hadn't been pleased with his players' first-half efforts, which gave them an 18-7 halftime lead.
"It was a hard game. We came out flat," Wedd said. "The longer you let a team like that (SMN) stay in the game, the harder they play. Outside of really the third quarter, we struggled the whole night, both offensively and defensively."
Lawrence's defense forced a turnover on downs on its first possession of the second half, setting up a quick, 41-yard scoring drive for the offense that Strauss finished with an eight-yard rushing TD.
Two plays into the Indians' next drive, LHS junior defensive back Kieran Severa picked off a Nick Finazzo pass and returned it 14 yards for another score, giving LHS a 38-7 advantage.
Said Strauss: "We didn't play our best football by any means in the first half, and it showed on the scoreboard. But we came out in the third quarter and played well offensively and defensively and put them away."
While the defense didn't shut out SMN like it hoped, the Lions didn't let Indians running back Jesse Patterson (21 carries, 162 yards, TD) or the other North ball carriers break many long runs. Most of the night, senior LHS linebackers Asaph Jewsome and Hunter Haralson or senior defensive lineman Chris Gillespie were stuffing the run.
Preferring perfection, Kharon said the defense could have been better.
"What we do really well is we go to the ball," the senior lineman said. "We're very tenacious and aggressive about it. That's what helped us this game. Whether we messed up or not, we kept going."
Gillespie routinely punished SMN rushers by getting his nose to the ball at or near the line of scrimmage. Inspired after missing the previous two games because of a concussion, the senior lineman said it was great to be back on the field.
"I was just doing what my coaches taught me to do and getting up to find the ball, shake them out," Gillespie said. "I missed a couple, but I had my teammates to back me up on it."
The Lions' first two scores of the night came on Strauss TD passes in the red zone — one each to senior receivers Mayo and Will Thompson. But their third score, with 8:15 left in the second quarter, was the result of Mayo's blazing speed. Strauss ran toward the line of scrimmage and hit Mayo in stride on the right side of the field. Mayo sprinted past the SMN secondary down the sideline, distancing himself from potential tacklers the farther he went.
On the second play of the fourth quarter, backup QB Tucker Sutter added to Lawrence's high-scoring night by putting on some moves of his own. The junior initially headed up the middle, made a quick juke to the right, and the Indians watched him run for a 60-yard TD.
Still, Wedd considered it an ugly win.
"We'll grow from this and learn from it," he said.
Copyright 2018 The Lawrence Journal-World. All rights reserved. This material may not be published, broadcast, rewritten or redistributed. We strive to uphold our values for every story published.