Photo Gallery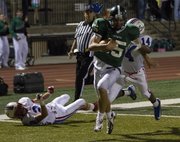 Olathe North at FSHS football
Free State High might have gotten away with one Friday night against Kansas' own old football coach Gene Wier in his first game back in Lawrence in over a decade.
Wier — fresh off a coaching stint in Texas — built a bit of a dynasty during his previous tenure at Olathe North in the 1990s, but Friday he suffered a last-minutes 34-28 loss at FSHS.
With under four minutes remaining and tied 28-all, Olathe North started its possession at its own 32-yard line. After a run up the middle and an ensuing scrum in the pile, Olathe North was flagged for unsportsmanlike conduct. Somewhere in the shuffle, Olathe North suffered a 15-yard penalty and lost not just one down, but two.
"They took a down away from us," said Wier, who is back at the helm at Olathe North in his first season since coaching for a decade at Richland, Texas. "They lost track of a down. Then they penalized me for complaining that we lost a down. It was an unsportsmanlike after the play on the first play. I know we ran two plays. We only ran two plays."
Olathe North marched farther backward after the penalty, incurred after Wier remained on the field too long for the officials' liking, and the Eagles suddenly faced third and very long without an effective passing game. Olathe North's starting quarterback was injured last week, and in his stead Dontez Sanchez passed for a meager 24 yards on 3-of-8 passing.
Olathe North punted 15 yards, and Free State took over possession at the 30-yard line, within striking distance.
Kyle McFarland, struggling with the football behind the line of scrimmage on two prior possessions in the quarter, regained his bearings just in time.
Having thrown a 27-yard strike to Chris Heller on the previous possession, McFarland found a way to get the ball in the end zone one more time on Free State's final possession.
Despite starting the drive with two holding penalties that brought back two big plays, McFarland finally hooked up with Tye Hughes to set up a touchdown. Rolling right at the 35-yard line, McFarland looked back his left and found Hughes for a 27-yard gain on the left side of the field to set up the Firebirds inside the 10-yard line. McFarland, who ended with 215 yards passing and 101 yards rushing, then ran seven yards to set up his one-yard touchdown run to set the final margin.
Olathe North (0-4) trailed 20-7 going into the fourth quarter. The Eagles then revived their old brand of grinding, run-oriented football. On a 17-play drive, all but one play on the ground, the Eagles drove 79 yards to draw within a touchdown. Olathe North then converted two touchdowns off McFarland's two fumbles to take a 28-20 lead.
Free State coach Bob Lisher said there was gap confusion on defense.
"We got to fix some things up front offensively, and defensively up front," Lisher said. "We got to be able to stop people better than we did the last two weeks. You have trust the guy to be in the right gap to do his job, and sometimes we didn't do that."
Heller's catch over the middle to draw Free State within 28-26 before the successful two-point conversion was spectacular. He went up and caught the ball at the peak of his jump on a route over the middle and ripped down McFarland's pass.
"The play was the to right, and I was running a back-side post, so I knew I was going to come open. I saw Kyle turn and throw it to me, and I just made a play on it," Heller said. "(McFarland) has great field vision, and he always finds the open guy. The game wasn't going our way, but we knew we had to fight back and get a win."
And the lost down that came after Free State tied the game 28-28?
"Not sure what down it was," Lisher said. "I know you don't get to do the down over on a dead-ball personal foul, but I'm not sure what down it was. I don't know about that. (Wier) was pretty adamant that he didn't get the right call."
As for Free State (3-1), the takeaway was that it came away with a win.
"It wasn't pretty," McFarland said. "We gotta be happy that we came back and stayed focus and played hard till the last second. There's no way we should have been in that position."
Copyright 2018 The Lawrence Journal-World. All rights reserved. This material may not be published, broadcast, rewritten or redistributed. We strive to uphold our values for every story published.