As long as Free State High's boys soccer team leaves the field with a victory, coach Kelly Barah doesn't care about the margin of the score.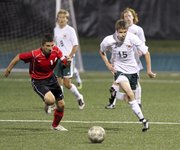 So when the Firebirds beat Shawnee Mission North, 1-0, Thursday night at FSHS, he wasn't concerned that a tight game might have made the final minutes a bit more suspenseful.
"We don't go in trying to measure ourselves with the number of goals we score," Barah said. "After our loss the other night (Tuesday against Shawnee Mission East), we're just trying to get back to possessing the ball, and with that come the chances to score."
It turned out the best opportunity for Free State (3-3) against the Indians (2-7) came off a turnover 15 minutes into the game. Senior midfielder Evan Smith, who scored his second goal of the season, said miscues usually make the difference in a close game.
"I saw we won the ball back and Josh Hodge played the ball over the top and they (SMN) had a little defensive miscommunication," Smith explained. "I was able to get in there, take a touch and put it away."
Smith's only other score this season came on a penalty kick, so he was elated to get on top of the ball and send it to the back of the net.
"Barah always stresses on finishing every single chance we have," Smith said.
After that, the Firebirds defense and senior goalkeeper Luke Lesslie held off a couple of low-percentage tries by SMN. If senior FSHS defenders Antonio Schoneich and Anthony Richardson weren't clearing the ball out of the box, freshman Jordan Patrick, junior midfielder Alex Trent or another Firebird was stepping in front of a SMN pass.
Barah said Free State ultimately won, however, because of its possession.
"If you don't have the ball," Barah said, "it means you're defending 90 percent of the time and you can't play that way."
Schoneich said FSHS happily tired and frustrated SMN with its possession via quick passing.
"We spread the field with the ball and made them run around a lot," Schoneich said. "We like being able to feel like we're in control of the game."
Though pleased with Free State's play, Barah said his team failed to connect on the final pass of scoring opportunities far too many times.
That led to a one-goal game, which Smith admitted can make the final minutes more dangerous.
"As soon as it gets down to 15 minutes, it starts seeping in a little bit," he said of pressure.
Still, Barah thinks his players mimic his approach, and don't concern themselves with the score after a win.
"They realize professional games end with the score this way, as well," the coach said.
Free State plays at Topeka on Saturday at noon.
Copyright 2018 The Lawrence Journal-World. All rights reserved. This material may not be published, broadcast, rewritten or redistributed. We strive to uphold our values for every story published.