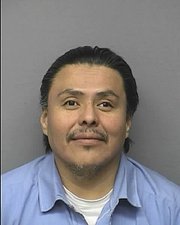 The Kansas Supreme Court Friday ordered a new trial for a Lawrence man convicted in the 2006 death of his girlfriend.
Christopher Belone, 41, was convicted of second-degree murder in the beating death in July 2006 of Linda Begay, Lawrence. Begay died of an abdominal infection days after Belone struck her in the stomach with a coffee-table leg during a beating at Gaslight Village mobile-home park.
The court ordered a new trial after finding a district court judge erred in allowing into evidence statements Begay made to police she died. Based on case law decided following Belone's conviction, the admission of such evidence violated Belone's Sixth Amendment right to confront witnesses, the court stated in its opinion.
A Kansas Court of Appeals previously ruled that Belone's rights were violated when the statements were admitted, but found that "the error was harmless because of 'overwhelming' evidence,'" and denied a new trial.
The Kansas Supreme Court disagreed with that assessment, stating:
"Here, the state has simply failed to carry its burden of showing that there is no reasonable possibility that the violation of Belone's confrontation rights contributed to the verdict. Without that degree of certainty, we cannot declare the error to be harmless."
In 2007, Belone — who also was convicted of kidnapping, obstruction and violation of a protection order — was sentenced by Douglas County District Judge Jack Murphy to 48 years in prison. Murphy retired in January 2009.
At some point, Belone will be transferred back to Douglas County Jail, and a decision will be made what to charge Belone with, said Douglas County District Attorney Charles Branson.
"We are going to review the court's decision and determine the best way to proceed. ... After the case was tried, new and significant interpretations were handed down by the United States Supreme Court with regard to the right to confrontation," Branson said. "We will retry Mr. Belone but we will have to determine if this will affect what he is charged with."
Copyright 2018 The Lawrence Journal-World. All rights reserved. This material may not be published, broadcast, rewritten or redistributed. We strive to uphold our values for every story published.