Lawrence High senior Abby Gillam wasn't upset when she first saw that there was a tennis dual against Manhattan scheduled on her 18th birthday.
Photo Gallery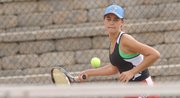 Lawrence High tennis dual vs. Manhattan
"Since it's a school night, I really don't get to do much anyways," Gillam said with a smile. "But it's fun. It's something I've always enjoyed doing."
Gillam celebrated with a couple victories Thursday, winning both her doubles and singles matches as LHS took an 8-1 dual victory over Manhattan at the LHS tennis courts.
"It definitely felt really good," Gillam said. "I felt like I hit the shots I've been working on all summer and all season."
Mostly, the senior said she hit with more confidence, which included shots with sharp angles and also ones that landed right on the line like she wanted.
Gillam teamed with Haley Ryan at No. 2 doubles for an 8-3 victory before winning, 8-0, at No. 3 singles.
LHS pulled an impressive turnaround in one year, defeating Manhattan, 8-1, after the Indians won last year's dual by an identical score.
"I'm very pleased," LHS coach Chris Marshall said. "It's a good tune-up for our dual with Free State coming up (Tuesday), so hopefully, we can keep up the momentum and keep the strategy that we're learning."
LHS's Lily Abromeit contributed two victories, first matching up with Brooke Braman in No. 1 doubles for an 8-5 victory over Manhattan's Kaitlin Wichmann and Claire Freeby.
"I think we did a lot better toward the end, because we started to figure out how we needed to place the ball and where we needed to hit it," Abromeit said. "Once you figure out your opponents' weaknesses, it's a lot easier."
The senior, who brought birthday cookies for Gillam, finished her day with an 8-0 victory at No. 2 singles over Anne Roberson.
"She's worked really hard," Marshall said of Abromeit, "and has improved quite a bit from where we were last year."
Because she's primarily a doubles player, Abromeit admitted that it's sometimes tough to make the transition to singles. One of her best shots, a wide backhand, tends to sail out of bounds when she plays singles.
She also has to constantly remind herself that the court is smaller.
"I always hit down-the-line shots," Abromeit said, "but then, I have to remember to bring it in more so it doesn't go out."
LHS's other victories on Thursday came from Ryan (No. 4 singles, 8-6), Molli Noller (No. 5 singles, 8-1), Katie Gaches (No. 6 singles, 8-3) and the No. 3 doubles team of Carly Davis and Gaches (8-1).
Copyright 2018 The Lawrence Journal-World. All rights reserved. This material may not be published, broadcast, rewritten or redistributed. We strive to uphold our values for every story published.