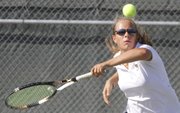 Alexis Czapinski, Free State High's No. 1 singles player, never neglects to immerse herself in her matches, but she found that aspect of her approach more challenging than usual Wednesday at the Firebirds' home quadrangular.
Even routine distractions, such as the wind, seemed to steal her focus, because Czapinski still felt fatigued from the day before, when she played five matches at the St. Thomas Aquinas Invitational.
"You have to pay attention a little bit more so you don't get sloppy," Czapinski said. "It's generally good to keep that in check, because half of tennis is actually playing the match, and half of tennis is battling yourself to stay positive and focused and all that."
The FSHS junior won that struggle as easily as she did her three singles matches, going 3-0 while losing just two games. Czapinski accounted for Free State's only victories in 3-1 losses to Olathe Northwest and Shawnee Mission Northwest and helped the Firebirds beat Shawnee Mission North, 3-1.
On Tuesday, in Kansas City, Mo., Czapinski went 2-3 at a tournament known for being tougher than state, because some of the top programs from Kansas and Missouri participate. It left her feeling worn down as soon as the home quad began the following afternoon.
"Trying to overcome that tiredness was difficult, but I think I did a good job," Czapinski said.
Free State coach Oather Strawderman agreed and said she played at her normal level despite feeling lethargic.
"This was a good opportunity for her to practice what state's like, which is a two-day affair," Strawderman said. "You've got a big, long day the first day, then you've got to come back and play super-critical, important matches the second day."
Czapinski's Wednesday matches weren't as difficult as those she might encounter at state, but the three Sunflower League victories will assure her of a better seed when the league tournament begins on Sept. 27 at Shawnee Mission East.
"Maybe you don't have to play the No. 1 (seed) really soon," Czapinski said of improving her bracket status. "That's always tough."
Facing Shawnee Mission North, Free State's No. 1 doubles team of Emily Sadosky and Caitlin Dodd, as well as its No. 2 team of Taylor Hawkins and Alyssa Raye, accounted for the Firebirds' other two victories at the quad.
Though Rachel Walters finished 0-3 in No. 2 singles, she won 11 games, and Strawderman liked how the freshman played with aggressiveness and mobility.
"That's something I'm hoping to see more from the doubles teams — that aggressiveness and fighting for a point and getting to the net as much as possible," the coach said.
Copyright 2018 The Lawrence Journal-World. All rights reserved. This material may not be published, broadcast, rewritten or redistributed. We strive to uphold our values for every story published.