News, et cetera, from schools in and around Douglas County: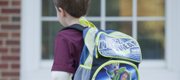 Subscribe to the email edition of First Bell and we'll deliver you the latest local education news and notes every weekday at noon.
• The Kansas Art Education Association named Angelia Perkins, an art teacher at Lawrence High School, their overall outstanding educator of the year. In a news release, the organization described Perkins as "a strong advocate for art education in Kansas."
She'll be given an award at the KAEA conference Oct. 27 in Wichita.
• The state board of education has been active this week. In case you missed it, here's an Associated Press story on the board's take regarding science standards.
Our own Scott Rothschild wrote about Kansas' achievement gap, particularly for minority students and students of low-income families. I wrote more about the Lawrence school district's various achievement gaps, which are sometimes wide but always complex.
Achievement as a general trend is up for all students. By several metrics, in Lawrence at least, the gap isn't widening, but it isn't closing rapidly, either.
The Lawrence school board has again made "equity" one of its main goals for this year, but how exactly it plans to tackle disparity of achievement between subsets of the student population is something I'll be continuing to examine.
• The Chicago teachers strike, you may have heard, is over. I've been following the developments and the changing attitudes of the players. Many observers have said that the union made strides, but one point of contention that wasn't even addressed was the role of standardized assessment scores in determining teacher pay. That's a major issue.
Here's another Associated Press story that takes a look at possible national repercussions of the week-long strike.
• Know anything that I need to learn? Send news tips, comments or questions to acgarrison@ljworld.com or call 832-6314.
Copyright 2018 The Lawrence Journal-World. All rights reserved. This material may not be published, broadcast, rewritten or redistributed. We strive to uphold our values for every story published.