News, et cetera, from schools in and around Douglas County: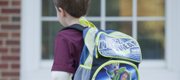 Subscribe to the email edition of First Bell and we'll deliver you the latest local education news and notes every weekday at noon.
• The Cordley School parent and teachers' association was named 2012 Parent Group of the Year for Outstanding Effort to Overcome Adversity by national "PTO Today" magazine last month. There's a nice write-up online that explains that the adversity factor came into place with the closure talks and difficulties with the building itself. But despite challenges, the article emphasizes, PTA involvement is way up and the organization commended the group for its innovation in involvement. From the article, by June Allan Corrigan:
"A newsletter, Facebook page, website, and traditional bulletin board keep parents informed. These innovations have led to four community outreach events, three fundraising activities, a book fair, a farm-to-school lunch program, a holiday family charity program, and four clubs, all organized by different parents."
• I'm a big, big "This American Life" fan and was very excited to catch this week's podcast, knowing its topic was something related to school reform. (It's a weekly show broadcast on many NPR affiliates, including KANU.) Turns out, episode 474, "Back to School," focuses on the research highlighted in reporter Paul Tough's recent book, "How Children Succeed: Grit, Curiosity, and the Hidden Power of Character." It's fascinating stuff.
The research is on "non-cognitive skills," an admittedly poor term, but, basically, the outside life skills not usually associated with the classroom that really affect learning. It has to do a lot with stress and health of children. In short, the episode is more widely about how schools could partake in more social reform.
You can listen to the full episode online.
• I'm talking to school board members and administration this week about the proposed bond issue election — where they think they are now in the planning process and what they'd like to see get in. If you've got questions, I'd love to hear them.
• Know anything that I need to learn? Send news tips, comments or questions to acgarrison@ljworld.com or call 832-6314.
Copyright 2018 The Lawrence Journal-World. All rights reserved. This material may not be published, broadcast, rewritten or redistributed. We strive to uphold our values for every story published.