Photo Gallery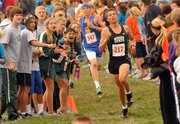 Free State cross country at Baldwin
Baldwin City — Free State placed sixth in the both the boys and girls competition Saturday in the Baldwin Invitational cross country meet.
Baldwin's Ethan Hartzell won the boys race in a time of 16:14.93. Trail Spears led the Firebirds with a 10th-place finish in 16:58.27.
Also for the Firebirds, Ryan Liston placed 26th, John Corbett 28th and Fletcher Koch 32nd.
Joe Pierce added a fifth-place finish for Baldwin, and Dakota Helm was 17th.
Bailey Sullivan led the FSHS girls with a 12th-place finish in 15:52.12. Molly McCord was 24th, Rosemary Newsome 25th, Christina Craig 43rd and Cierra Campbell 45th.
Kaitlyn Barnes led Baldwin with an 11th-place finish, Katie Jones was 16th, Libby Verhaeghe 18th, Fayth Peterson 21st and Addie Dick 23rd.
Aquinas won the boys competition with 59 points. Baldwin was fourth with 96, and Free State was sixth with 129.
Aquinas also won the girls competition, with 23 points. Baldwin was third with 85, and Free State was sixth with 141.
Copyright 2018 The Lawrence Journal-World. All rights reserved. This material may not be published, broadcast, rewritten or redistributed. We strive to uphold our values for every story published.