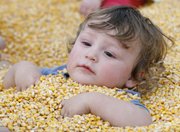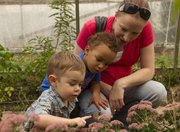 Two years ago, 3-year-old Bella Bryan got her first dose of agricultural education when her day care center became involved in the Farm to Child Care program.
The Douglas County Childhood Development Association's program aims to encourage healthy eating habits and choices by working with local farmers, families and child care providers to increase food education and access to local produce through children's gardens.
Charlie Bryan said the initial exposure to gardening piqued his daughter's interest and since then the Bryan family has purchased plots through the Lawrence Community Garden Project and has planted a garden at their home.
The new garden enthusiasts were among about 130 local families who attended the Fall Harvest Festival on the open grounds of Pendleton's Country Market, 1446 E. 1850 Road, on Sunday evening. Under cloudy skies and what felt like fall weather, the festival served as the culmination of the two-year program.
"I think it (the program) is great, and it's made a big difference," Bryan said.
"Farm to Child Care" participants were spread about the east Lawrence farm decorating crafts, going on hayrides and eating local foods as part of the potluck dinner.
Event co-organizer Emily Hampton, DCCDA Food Systems coordinator, said she saw many familiar faces and was pleased with the turnout, which matched last year's attendance.
"It's fun to have a time to celebrate and see the kids out playing at a farm," Hampton said. "To see everything all come together about food and gardening: That's the highlight for me."
In its second year at the same location, the three-hour event also featured live music, prizes and a recipe exchange.
Lawrence resident Sarah Hoskinson brought her three daughters — Abby, 5, Lexi, 2, and Izzy, 1 — out to the festival for the first time. Both Lexi and Izzy help with gardens at their child-care centers, Hoskinson said.
The program is great, she said, and serves as an extension of what her family already practices.
This year, the Farm to Child Care program doubled and in some cases tripled participation, reaching about 950 children at 27 in-home providers and nine child-care centers.
Organizer Ashley Graff, DCCDA Food Systems educator, said it's imperative to expose children to natural produce while their tastes and preferences are developing.
"The obesity crisis is booming, and it's scary," Graff said. "That's what we are working against."
Implemented in 2011, DCCDA received a $100,000 grant from the Untied Methodist Health Ministry to fund the program.
For more information or to become involved, contact Emily Hampton at (785) 842-9679.
Copyright 2018 The Lawrence Journal-World. All rights reserved. This material may not be published, broadcast, rewritten or redistributed. We strive to uphold our values for every story published.