If a general manager put this roster together, he would get booed out of town in a way that would make him never want to return.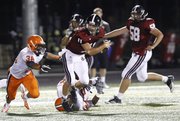 No kicker. Too many guys who need to sit on telephone books to reach their school desks. Too many scrappers so antsy to make something happen they tend to get flagged with penalties.
Somehow, this collection of Lawrence High Lions manages to band together to produce a most entertaining product to watch, hairy warts and all.
The Lions survived Olathe East, 28-20, to the delight of the home crowd Friday night, even though a couple of linemen were forced out of the game by bells that kept ringing in their heads, the leading running back was forced to watch most of the second half because of a sprained ankle, and the opposition started using its size advantage to plow through tackles and eat away at the lead.
As has been the case so often the past three seasons for the Lions, senior quarterback Brad Strauss had a counter-punch for every blow the Lions either delivered to themselves or took from the Hawks.
Strauss, the Forrest Gump of the Sunflower League, has set the bar pretty high for himself in terms of leaving spectators shaking their heads. But even by his standards, Friday's performance was a mind-blower.
Strauss completed 15 of 27 passes for 305 yards and three touchdowns, rushed for 87 yards and a touchdown and came up with the game's key defensive play, an interception on O-East's final play from scrimmage. Early in the game, he blocked an extra point.
Veteran LHS coach Dirk Wedd was asked if he ever has coached a player he asked to do as much as he asks of Strauss.
"Never in this school," Wedd said. "Never. Never. Never. And you've heard me say this a thousand times: He's an even better kid than he is a football player."
Strauss also punts and returns punts for the Lions. And sometimes he fake-punts, including one time too many Friday. On fourth-and-two from the Lions' 28, Wedd called a fake punt. The play ended with Strauss throwing an interception.
"He's our best practice player," Wedd said. "He practices harder than any other player. Everyone else says, 'Well, if the best player on this team practices this hard, I better practice hard.' And that's how you make a good football team."
There's no such thing as a one-man football team, and Strauss certainly is not that. Receiver/defensive back Erick Mayo made big plays on both sides of the ball. Drake Hofer (seven catches for 85 yards and a TD) and Will Thompson (two catches, 88 yards and a TD) came up big, as did all-state wrestler Hunter Haralson (14-yard sack late).
But to watch a Lawrence High football game is to wonder if we might all be victims of a clever prank. Could it be Brad Strauss is an identical twin whose secret brother also wears No. 11?
Copyright 2018 The Lawrence Journal-World. All rights reserved. This material may not be published, broadcast, rewritten or redistributed. We strive to uphold our values for every story published.