Without some late-game heroics from the Lawrence High defense, football coach Dirk Wedd and the Lions would have had a miserable start to their weekend.
Photo Gallery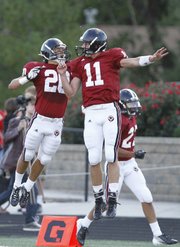 LHS football v. Olathe East
Images from Friday night's game against Lawrence High and Olathe East.
After fourth-down plays backfired on consecutive fourth-quarter possessions for LHS, an interception by safety Brad Strauss with 1:59 on the clock capped a gutsy defensive stand and sealed a 28-20 victory over visiting Olathe East.
"First of all, that was a crappy job of coaching," Wedd said with a relief-filled laugh.
Protecting a 28-12 fourth-quarter lead, the first LHS miscue came with just under 11 minutes left. On a fourth-and-two on its own 28, Lawrence elected to go for it with a fake punt that fooled no one. Senior quarterback Strauss faked a hand-off to back-up running back Jordan Brown, rolled right and had his pass intercepted by the Hawks' Braxton Love.
O-East (1-2) took over on Lawrence's 20, and five plays later senior fullback Ryan Woodson was plunging into the end zone for a touchdown. The Hawks added two on a run by Hayden Frazier following a pass-interference call on the LHS defense, which was flagged 13 times for 93 yards on the night.
Though the Lions' next possession, while leading 28-20, got off to a good start — Brown and Strauss picked up first downs on the ground — it derailed inside the O-East 10-yard line.
First, a hold negated a Strauss TD run. Eventually, faced with fourth-and-goal at the three, Strauss looked for an open receiver on a passing play, found no one, and the pocket collapsed around him as the Hawks picked up a sack.
That gave O-East a chance with more than four minutes remaining to go 94 yards and potentially tie the game with a two-point conversion. On third-and-six, LHS senior defensive back Erick Mayo deflected a pass on the right sideline with a diving play. But Hawks senior QB John Blazevic found Nathan Guthrie for a 29-yard gain on fourth down to keep the drive alive.
Fortunately for the Lions (2-1), on a night when starters such as Tyrone Jenkins, Drew Green, Art Hall and Kyle Wittman had injuries force them out of the game, backup Hunter Haralson pulled down Woodson for a 14-yard loss on the next play, leading to a third-and-24, where Blazevic had to look deep, and Strauss leapt up for a crucial interception.
"We had so many kids step up," Wedd said, "it was unbelievable."
Strauss, who racked up 392 yards of total offense, accounted for every Lions touchdown and blocked an extra point, couldn't believe the relentlessness of Haralson, a 5-foot-5, 145-pound senior who lined up at nose guard.
"Hunter Haralson, he's just amazing," Strauss said. "It's incredible how good he is for how little he is. He's just the toughest kid."
Lawrence had to pick up a first down when it got the ball back, and, aided by an offside penalty by O-East on third-and-six, Strauss ran for the game-deciding first down with a two-yard carry.
The Lions did most of their damage through the air in the win, though. Strauss had two of his three touchdown tosses on fourth-and-goal — one to Drake Hofer in the first quarter and another to Mayo in the third.
Because LHS doesn't have a field-goal kicker, Hofer said converting on those plays is a must. It helps that Strauss has a stable of reliable options when he drops back to pass. Will Thompson, Josh Seybert, Hofer, Mayo and Brown all had double-digit receiving yards.
Said Hofer: "Will is playing incredible right now. Erick, when he gets it, you never know how long he's gonna go."
Big plays on both sides of the ball allowed the Lions and Wedd to celebrate in the locker room instead of sulk.
Box score
Lawrence 28, Olathe East 20
OEHS LHS
First downs 12 16
Rushes-yards 39-200 30-146
Passing yards 64 305
Total offense 264 451
Return yards 83 54
Fumbles-lost 0-0 0-0
Penalties-yards 5-35 13-93
Score by quarters
Olathe East 0 6 6 8 — 20
Lawrence 14 6 8 0 — 28
Individual statistics
Rushing
OEHS: Hayden Frazier 22-157 TD, John Blazevic 3-21, Branden Trinkle 1-9, Jalen Branson 1-6, Jordan Brown 1-5, Ryan Woodson 11-2 2 TDs.
LHS: Brad Strauss 18-87 TD, Tyrone Jenkins 8-41, Jordan Brown 3-14, Erick Mayo 1-4.
Passing
OEHS: Blazevic 3-11-64 interception
LHS: Strauss 15-27-305 3 TDs interception
Receiving
OEHS: Nathan Guthrie 2-34, Trinkle 1-9.
LHS: Will Thompson 2-88 TD, Drake Hofer 7-85 TD, Mayo 2-75 TD, Josh Seybert 3-30, Brown 1-17.
HOW THEY SCORED
First quarter
8:25 — Will Thompson 64 pass from Brad Strauss. Strauss run. (LHS 8, OEHS 0.)
2:57 — Drake Hofer 5 pass from Strauss. Tyrone Jenkins run failed. (LHS 14, OEHS 0.)
Second quarter
10:28 — Strauss 5 run. Mayo run failed. (LHS 20, OEHS 0.)
4:15 — Hayden Frazier 16 run. Ryan Ahlgren kick blocked by Strauss. (LHS 20, OEHS 6.)
Third quarter
8:27 — Mayo 7 pass from Strauss. Hofer pass from Strauss. (LHS 28, OEHS 6.)
0:26 — Ryan Woodson 4 run. Frazier run failed. (LHS 28, OEHS 12.)
Fourth quarter
8:43 — Woodson 2 run. Frazier run. (LHS 28, OEHS 20.)
Copyright 2018 The Lawrence Journal-World. All rights reserved. This material may not be published, broadcast, rewritten or redistributed. We strive to uphold our values for every story published.