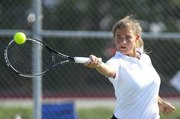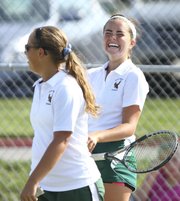 Senior Emily Sadosky used to fill a different role for Free State High's girls tennis team, but the captain's adaptability continued to shine Wednesday at the Firebirds' home dual against Mill Valley.
As a sophomore and a junior, Sadosky occupied one of Free State's top two slots in singles competition. Now in her final season with the program, she and freshman Caitlin Dodd have paired up to become the top doubles combination. The duo handled their business as a team, then both won singles matches on their own in Free State's 7-2 victory over the Jaguars.
FSHS coach Oather Strawderman said Sadosky serves as a great example for her younger teammate, Dodd.
"It's been a big change for her this year playing doubles, in addition to playing with someone who is a freshman," the coach said. "But Caitlin's a really strong player, and Emily's presence on the court and her leadership abilities and tenacity really help Caitlin understand high school tennis."
Most of the Firebirds generated strong afternoons, even though Sadosky was the only senior playing in varsity matches. In her down time, Sadosky liked what she saw out of freshman Dodd, sophomores Megan McReynolds, Taylor Hawkins and Alyssa Raye, and junior Alexis Czapinski.
"We have a really young team right now," Sadosky said, "which is great for the future because they're only going to improve as time goes on."
Czapinski, Free State's No. 1 singles player, continued her strong season with an 8-1 victory against Sarah Wetzel. Sadosky, Dodd and Hawkins won their singles matches as well.
In No. 2 singles, McReynolds had to face Mill Valley's top player, Wetzel, because the Jaguars' No. 2 had a scheduling conflict and couldn't compete. Given the choice of having McReynolds play the Jags' No. 1 or No. 3 player, Strawderman thought it better to go up than down. Still, he wasn't upset that Wetzel beat McReynolds, 8-3.
"I'd prefer to have a loss against the No. 1 girl than a win against the No. 3 girl," he explained. "All that's going to do is make Megan a better player. She's not going to get any better by playing people she can beat every single time."
FSHS swept in doubles. Although Sadosky and Dodd typically occupy the No. 1 slot, the dual format allowed Free State's top two singles players, Czapinski and McReynolds, to play. They cruised, 8-1, in the top slot.
Sadosky and Dodd's communication made it easy to piece together an 8-4 victory at No. 2 doubles.
Said Sadosky: "We were able to put some balls away.
The No. 3 team of Hawkins and Raye also won their doubles match, 8-4.
At the end of a successful afternoon for FSHS, Strawderman even left happy after seeing the final match go in Mill Valley's favor. Raye trailed, 7-2, then rallied to win three straight before Eleanor English finished her off, 8-5.
"We just wouldn't stop fighting," Strawderman said. "We had lots of good matches and close matches."
Copyright 2018 The Lawrence Journal-World. All rights reserved. This material may not be published, broadcast, rewritten or redistributed. We strive to uphold our values for every story published.