News, et cetera, from schools in and around Douglas County: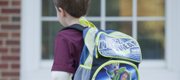 Subscribe to the email edition of First Bell and we'll deliver you the latest local education news and notes every weekday at noon.
• Here's a few save-the-dates for district events that I was reminded of in Monday's school board meeting:
— At 7 p.m. Sept, 27, the Lawrence Arts Center, 940 N.H., is hosting a screening of the documentary "American Teacher" and a discussion afterward. The discussion panel will include superintendent Rick Doll and Liberty Memorial Central Middle School teacher Michel Loomis. The event is free.
— The Lawrence Schools Foundation's community education breakfast is a week from Friday, at 7:30 a.m. at the Holiday Inn Lawrence, 200 McDonald Drive. The featured speaker is Larry Kwak, a 1977 Lawrence High School graduate and cancer researcher. Look for a story covering the event in next Saturday's Journal-World.
• Doll presented a draft of the district's goals to the school board on Monday, and most had a revision suggestion or two. So, the goals will go back for some tweaking, but they're pretty extensive already. The complete document is available online, organized under the district's three main objectives: "excellence, equity and engagement."
• Know anything that I need to learn? Send news tips, comments or questions to acgarrison@ljworld.com or call 832-6314.
Copyright 2018 The Lawrence Journal-World. All rights reserved. This material may not be published, broadcast, rewritten or redistributed. We strive to uphold our values for every story published.